Resource Fair Brings Community to Campus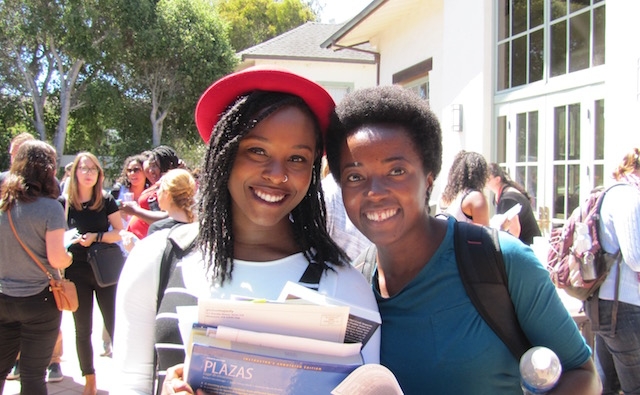 With the goal of helping students make the most of their time at the Middlebury Institute, the Office of Student Services invites local organizations and businesses to campus at the beginning of each fall semester for a Student Community Resource Fair. The idea is to offer students an easy way to connect with various local services, including transportation, banking, restaurants, fitness centers and local libraries.
This year, Career and Academic Advisor Edy Rhodes had the idea to add local organizations and other employers who value Institute students and may have jobs, internships, class projects and/or volunteer opportunities to offer. "You could say I am always on the lookout for more occasions to connect students with employers," says Rhodes, who adds that the great response will probably lead to a bigger fair next year. Among the community partners participating in the event were language service providers Moravia, Language Line Solutions, Monterey Language Services and Medialocate, as well as a variety of other organizations such as the Monterey Bay Aquarium, Big Sur Land Trust, United Way, the Offset Project and the Monterey County Peace and Justice Center.
"There is an incredible amount of energy here," said new International Policy and Development student Castelline Tilus MAIPD '18. Tilus and her friend, Public Administration student Taylor Hadnot MPA '18, characterized the event as a "very useful social hour." Hadnot said she particularly liked the relaxed atmosphere and the chance to mingle with second-year students. "It is a really cool way to bring all students together and a good introduction to the community."