Restoring a Pearl at the Heart of Campus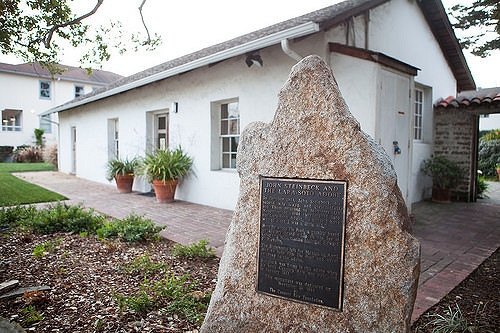 At 60 years old, the Middlebury Institute of International Studies is a relative youngster compared to the classic Mission-era structure located at its heart—the Lara Soto Adobe, constructed between 1842 and 1849, and a century later home to John Steinbeck while he wrote The Pearl. The Institute's efforts to restore the 170-year-old adobe and make it a central focal point of campus recently received a major boost in the form of a $125,000 grant from the Monterey Peninsula Foundation.
A key feature of the Institute's 2015 Master Plan is to create a green campus core and quad area directly in front of the adobe, made possible by a partial closure of Pierce Street. The adobe will then be repurposed as an inviting public space, with the planned new campus "spine" pathway running west to east through the center of campus adjacent to the adobe.
Before any other restoration work can be done on the adobe, it must undergo seismic retrofitting. Earlier this year, the Institute applied for a grant from the Monterey Peninsula Foundation to help fund this project, and was awarded the full request of $125,000. The Institute plans to combine these funds with capital reserves and possibly additional historic preservation grant funding to complete a scope of work that also includes replacing the structure's current roof and improving ADA access. All work on the adobe will be completed under the oversight of the City's Historic Preservation Commission.
"The adobe is a treasure that has been part of the Institute for 40 years, but part of the history of this area for much longer," said Jeff Dayton-Johnson, vice president for academic affairs and dean of the Institute. "This project will preserve the building's historic integrity while improving seismic safety and preparing the adobe to anchor the new quad area at the heart of campus."
The adobe was deeded to the Institute in 1976 and last restored in 1987. For many years it housed the Institute's Admissions Office, and its street address, 460 Pierce Street, remains the Institute's official mailing address. The Institute is partnering with the Architectural Resources Group on the seismic retrofit project, which it hopes to complete by the second quarter of 2017.