Sakena Yacoobi to Deliver Spring 2016 Commencement Address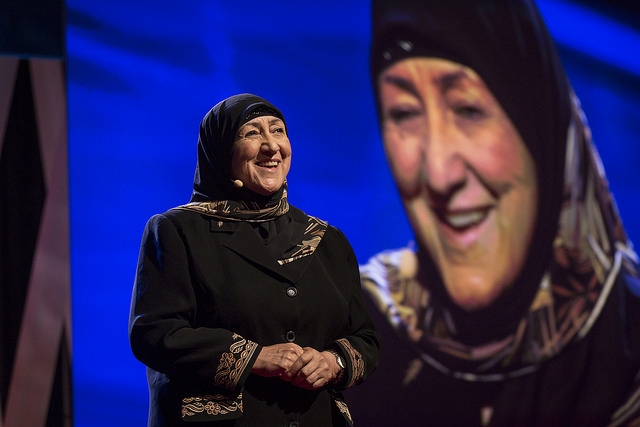 The Spring 2016 Commencement speaker for the Middlebury Institute of International Studies at Monterey will be world-renowned Afghan social entrepreneur Dr. Sakena Yacoobi.
Yacoobi founded the Afghan Institute of Learning (AIL) in 1995 to provide training, education, and healthcare to the Afghan people, with a particular focus on women and children. AIL was the first organization to open learning centers for Afghan women—a concept that has been replicated by many organizations across Afghanistan. Today, AIL is one of the largest Afghan non-profit organizations, providing education and health care services for over 12 million Afghans to date. Yacoobi and her organization have won numerous awards for their work and she is a powerful advocate for the education of young girls and women in Afghanistan.
Yacoobi grew up in what she has described as "a happy and very supportive household" in Afghanistan prior to the 1979 Soviet invasion. She subsequently studied in the United States, where she earned degrees in science and public health. Working at a refugee camp in Pakistan, she experienced the overwhelming need of her people and found her professional calling.
She is also co-founder and vice president of Creating Hope International (CHI) and the recipient of honorary doctorates from institutions including Princeton University. Dr. Yacoobi was honored as the 2013 recipient of the Opus Prize, and is the 2015 WISE Prize for Education laureate, as well as a Kravis Prize and Gruber Prize awardee, a Skoll Social Entrepreneur, Schwab Social Entrepreneur, and an Ashoka fellow. In 2005, the same year she and AIL won the Democracy Award of the National Endowment for Democracy, she was among a group of 1,000 women jointly nominated for the Nobel Peace Prize.
Yacoobi is also a former board member for the Global Fund for Women, an advisor to the Fetzer Institute, and a member of the US-Afghan Women's Council. Before founding AIL, Dr. Yacoobi was a professor at D'Etre University in Detroit, Michigan, and was coordinator of the women's programs for the International Rescue Committee in the Afghan refugee camps in Peshawar, Pakistan.
"We were delighted when Dr. Yacoobi agreed to be a founding member of the Advisory Council for the Institute's Center for Social Impact Learning," says Vice President for Academic Affairs and Dean of the Institute Jeff Dayton-Johnson. "We look forward to welcoming her back to Monterey and hearing her inspiring words for the class of 2016."
Yacoobi has said that "I really believe that students today, like those at the Institute, are going to be the ones who make the world a better place."
In addition to serving as the commencement speaker, Dr. Yacoobi will receive an honorary doctorate degree from the Institute. Spring Commencement will be held on Saturday, May 21 on the lawn of historic Colton Hall in downtown Monterey.