Student Veterans Mark Veterans Day with Fundraiser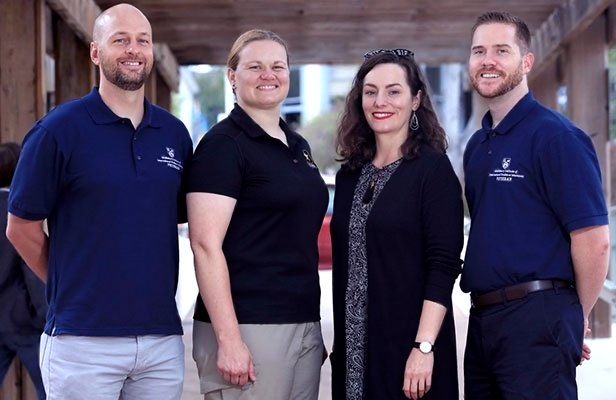 A substantial number of the 44 current Middlebury Institute students who are also active duty military or military veterans gathered late Thursday afternoon for a Veterans Day fundraiser hosted by the student-run Veterans Organization.
"We wanted to host an event where our veteran students would be comfortable hanging out, swapping stories and reminiscing about their time in service," said Veterans Organization President Dan Swinyard MBA '18. "One of our fellow students, Chuck Woodson [BA/MANPTS '19], is involved with the KIA Honor Flag Organization, a vet-centered charity that focuses on honoring and commemorating service-members who died in the line of duty. We're donating 100% of the proceeds from our event to this charity."
The Veterans Organization (VO) is a student club whose mission is "to empower its members to create professional opportunities and develop robust relationships that enable student veterans to achieve their academic goals, to increase overall competitiveness in the workforce and to foster camaraderie." Over the past year, the organization has sponsored an open house, opportunities to volunteer in the community, charity fundraisers, film screenings, and a discussion panel on the challenges many veterans face transitioning to civilian life.
Earlier this fall, the VO hosted a screening of Almost Sunrise, an acclaimed 2016 documentary about two Iraq war veterans with Post Traumatic Stress Disorder who embark on a 2,700-mile journey on foot from Wisconsin to California in order to reflect on their experiences and heal. The October 6 screening garnered interest from both the campus community and local residents.
"Our student veterans come to MIIS from all branches of the military, lengths of service, and ranks, and, each and every one of them uses their experience to supplement their academic and career pursuits," notes Swinyard. "My goal is to use the VO's resources and funding to ensure that our graduating veterans leave MIIS well-prepared for the job market and other future pursuits."
The Institute participates in the Yellow Ribbon Program, which guarantees full tuition benefits for up to 75 eligible veterans each academic year. It also offers preferential scholarship consideration for merit and need-based scholarships to veterans who are not eligible for Yellow Ribbon benefits.
In addition, for seven consecutive years the Institute has been recognized as a Military Friendly School by the Military Friendly organization, an online resource for service members, veterans and transition managers. The southern Monterey Bay has a long history as a military community, with the Defense Language Institute and Naval Postgraduate School located in the city of Monterey, and various military agencies located on the former Fort Ord property nearby.