Students at Middlebury Institute Launch Immigrant Rights Club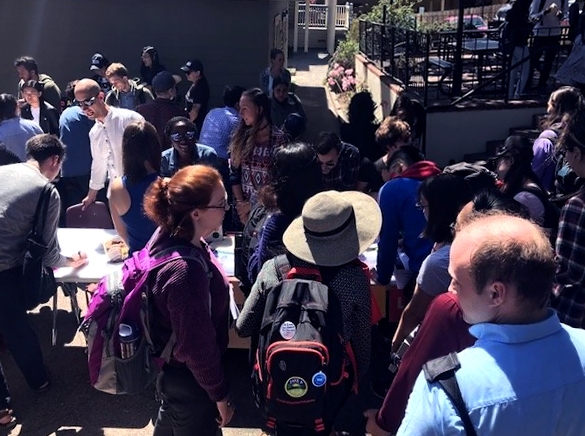 On any campus, getting involved can seem like a daunting and stressful endeavor - especially when there are so many options to choose from. At the Middlebury Institute, there are numerous clubs and organizations through which students can find common interests, discover new passions and enhance their experiences. And the best part is? You can start a club of your own to promote what interests you!
 
On September 11th, students flocked to the Holland Center Patio for the Club and Community Resource Fair hosted every semester by Student Services. Representing approximately 41 emerging or established clubs, students set up their displays side by side for clubs ranging from academic and international organizations to sports and recreation. From colorful poster boards to tasty cultural snacks, everyone had something to offer.
One such table hosted a new club founded by several students who had indeed, found a common interest through immigrant rights activities. With their first introduction at the club fair, the MIIS Immigrant Rights Alliance (MIRA, also meaning "look!" in Spanish) seeks to raise awareness and educate others on the reality of undocumented peoples and immigrants in our community. After attending several conferences at Hartnell College and CSUMB surrounding local immigration issues, these students were inspired by the stories the students they met (most of them students themselves affected by the DACA debate) and were spurred to action. "We were really just fired up about it after and were kind of inspired by the whole community. It's something we're very passionate about and we talk a lot about it in our classes," said Taryn Kearns MPA '19, a founding member of MIRA. "But we felt like there was kind of a disconnect between the things we were learning in classes about international migration and human rights and what people were actually doing in the local community."
MIRA's goals for the semester include a professional development component and a fundraising component to connect Middlebury Institute to immigrant rights organizations in the community. As an issue-based club, MIRA offers opportunities for students to get involved in the international development and human rights fields, find internships or volunteering positions in the local community and actively support the undocumented and immigrant population. As an excellent example of students compelled to action by their communities, MIRA presents a contemporary and inclusive forum for students on campus interested in immigration and related issues to participate in the diversity and advocacy that Middlebury is known for.