Students Promote Greater Understanding of North Korea's People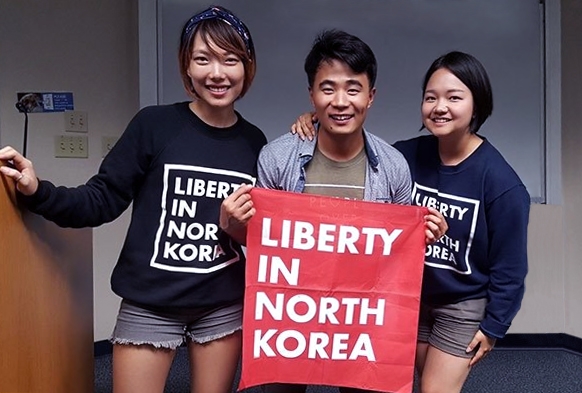 Middlebury Institute students Seo-Young Jun MATLM '18 and Seongji Kim MATLM '19 are working to take the conversation about North Korea beyond the headlines to focus on people by launching a Monterey chapter of the international NGO Liberty in North Korea, or LiNK.
After her first year at the Institute, Jun worked as an intern at the LiNK headquarters in Long Beach, California. She started as a videographer intern: filming, editing, and sharing stories of North Korean people and organizations. Liberty in North Korea (LiNK), a non-profit organization established in 2004, rescues and works side-by-side with North Korean refugees. She quickly expanded her scope and applied some of the skills she had already acquired from her degree program to translate creative materials and interpret for North Korean visitors. The experience helped her to really connect with the people of North Korea and understand their challenges. While working at the Long Beach office, her coworkers put her in touch with another intern working for the organization who had also committed to attend the Institute.
Kim was working at the Seoul office first as an intern, then as an HR employee. She was inspired to work for LiNK by her halmoni (grandmother), who left Pyeongyang to escape communist rule. The North Korea she heard described by her grandmother did not match what she saw in the media. She is passionate about supporting the positive changes that the North Korean people have been bringing to North Korea and believes in their agency to own their fate and create a brighter future for themselves.
This fall, the two students founded a LiNK chapter in Monterey to continue their work and spread the message. In its first semester, the chapter has gained 70 members, including students from varying disciplines and also a number of Monterey community members. The chapter has hosted a screening of the documentary The Jangmadang Generation: North Korea's Millennials, which was accompanied by guest speaker Charles Ryu, an escapee from North Korea and now an intern at LiNK's headquarters. The chapter also coordinated a fundraiser through Chipotle, which raised $295 for the organization's refugee rescue program. LiNK estimates that $3,000 can bring one refugee who is hiding in China to safety and freedom through a 3,000 mile modern-day "underground railroad." North Korean refugees in China often face repatriation, imprisonment, exploitation, and trafficking.
LiNK has more than 300 volunteer-led chapters in over 17 countries. Chapters, also called rescue teams, are student or community groups that support LiNK headquarters' efforts by fundraising and educating their local communities. LiNK programs include refugee rescues, resettlement assistance, education programs, and communication campaigns to change the narrative of how the world views and discusses North Korea. Their motto is "People over politics."
One of the goals of the Monterey chapter is to engage actively with the local community. They are already planning activities at Monterey High School for International Education Week, more fundraisers and documentary screenings, and hopefully a forum with guest speakers such as LiNK CEO Hannah Song.