Students in Unique Dual Degree Master's Program in Nonproliferation Begin Study in Moscow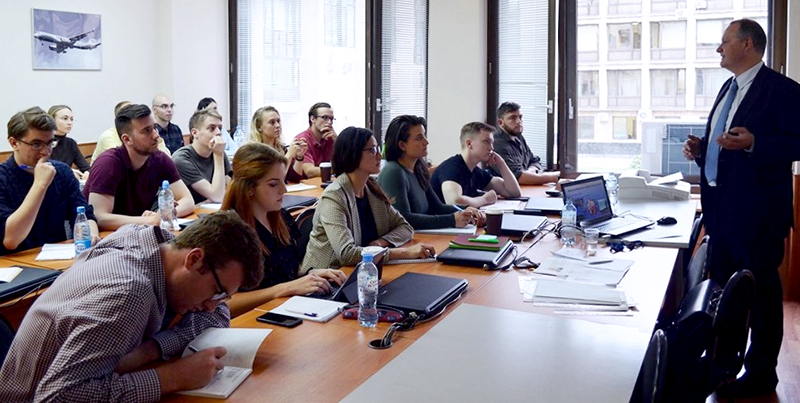 Eighteen students enrolled in a unique international dual degree master's program in Global Security, Nuclear Policy and WMD Nonproliferation recently began their academic year in Moscow. The dual degree program is a collaboration between the Middlebury Institute and Russia's PIR Center and Moscow State Institute of International Relations (MGIMO).
During the first semester of the program, students receive instruction in Russian at MGIMO in Moscow. During the second and third semesters, students move to Monterey and receive instruction in English. During the fourth semester, students complete a thesis and participate in internships with international organizations, national agencies, and companies around the world.
The new cohort of 18 includes students from the U.S., Russia, Ireland, Spain and Canada, and includes both specialists in international relations and international security, and students who are relatively new to the field of WMD nonproliferation. Before the start of the academic year on September 10, students went through an orientation with officials from the PIR Center and the Russian Foreign Ministry. Dr. William Potter, founding director of the Institute's James Martin Center for Nonproliferation Studies, welcomed the students via videoconference from Monterey, joined by Professor Philipp Bleek, research advisor to the program, and Senior Director of Institutional Partnerships Jill Stoffers.
Upon completion of the two-year program, students receive master's degrees from both the Middlebury Institute and MGIMO, opening a wide range of employment prospects. Additional details about the program, including curriculum and application deadlines, are available on the Dual Degree with Moscow State Institute of International Relations (MGIMO) page.