Summer Nonproliferation Program Welcomes 17 Outstanding Undergraduates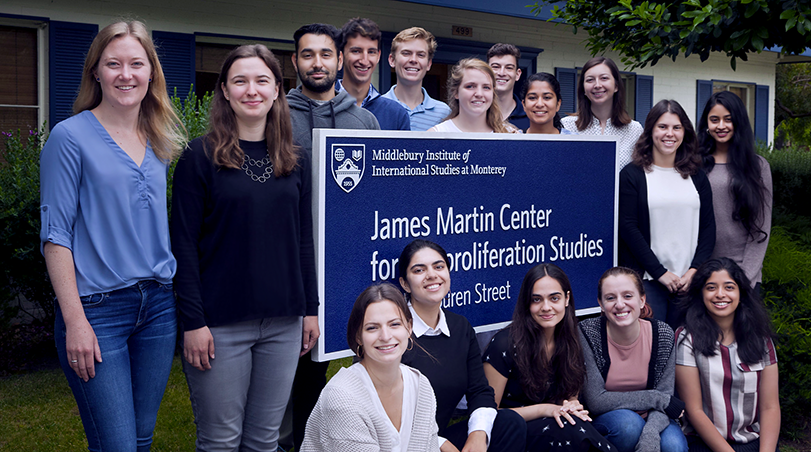 The Summer Undergraduate Nonproliferation Internship Program at the James Martin Center for Nonproliferation Studies (CNS) recently welcomed 17 outstanding undergraduate students from around the country for a summer-long internship experience including research and education projects supervised by some of the nation's leading experts on nonproliferation.
The program received a record number of applications at 130, making this the most competitive class in the program's history. The 17 students selected hail from some of the nation's best schools, including Middlebury College, Brown University, Yale University, Colby College, Cornell University, Columbia University, College of William and Mary, University of Georgia, Bryn Mawr College, Georgetown University, Pomona College, and Smith College.
"For most undergraduate students, the opportunity to study specialized nonproliferation and disarmament issues is rare," says Nonproliferation Education Program Project Manager Masako Toki MAIPS '00. "This program is a unique way to further CNS's mission of combating the spread of weapons of mass destruction by educating the next generation of nonproliferation experts." Toki notes that the 2019 group is a diverse set of undergraduates from a variety of backgrounds and specializations, including majors in physics, applied mathematics, environmental studies, sociology-anthropology, political science, international affairs, Russian and post-Soviet studies, Italian Studies, and international relations.
Interns work closely with CNS experts on the center's ongoing research and education projects, and attend a lecture series on issues relating to the spread and control of weapons of mass destruction, as well as regional nonproliferation issues including Eurasia, East Asia, South Asia, and the Middle East. Lectures focus on nuclear security, current challenges in nuclear disarmament, export controls, open-source tools for nonproliferation, and more.
Summer interns also experience hands-on training with using "new tools" for nonproliferation such as geospatial analysis, crowdsourcing, and 3D modeling, a recent emphasis of CNS researchers and teachers. Interns also have opportunities to undertake an independent research project with mentorship from CNS scholars, which may provide interns with a publishing opportunity in the relevant field.
The CNS summer program has also partnered with top international experts and leaders such as Dr. Tariq Rauf, a former top official at the International Atomic Energy Agency, who will once again join the summer undergraduate program to share some of his extensive experience in nonproliferation and disarmament. Summer interns will also engage in an intensive arms-control simulation focusing on the 2020 Review Conference of the Treaty on the Non-Proliferation of Nuclear Weapons.
CNS launched the Summer Undergraduate Internship Program in 1997, and the Davis United World College (UWC) Fellowship in Nonproliferation Studies in 2006. Since then, interns and Davis UWC fellows have come from a variety of majors. The program also accepts highly qualified international students. The program runs from early June through late August.
This year's Summer Internship is funded by the Tom and Sarah Pattison Fund, the Earle Family Fund for International Education, and the Carnegie Cooperation of New York. See the Summer Undergraduate Nonproliferation Program website for more information.