Theater of the Oppressed Comes to Monterey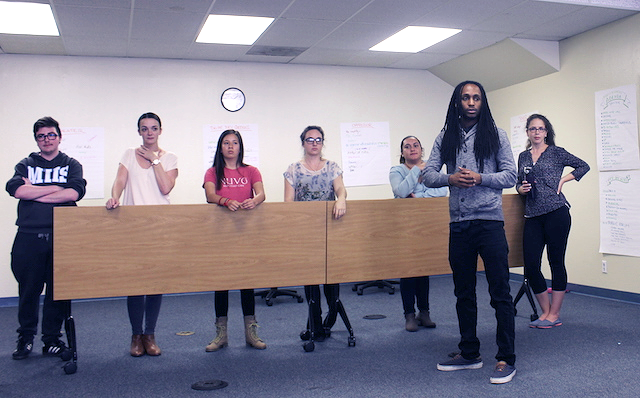 The Middlebury Institute student club Perform, Learn, Action, Yes, or PLAY, hosted a unique participatory theater workshop on March 5th and 6th, in collaboration with students from California State University Monterey Bay (CSUMB). The weekend workshop, free and open to the local community, was organized by club president April Danyluk MAIEM/MPA '16 and featured exercises and performances under the guidance of Theater of the Oppressed facilitators Levana Saxon and Tele'jon Quinn.
The concept of Theater of the Oppressed was created by Brazilian activist Augusto Boal in the 1970s. The idea spread across the Americas and Europe, and is used as a tool to encourage audience participation and dialogues about social injustices. As explained by Danyluk, Theater of the Oppressed utilizes a unique method of theater called Forum Theater, where members of the audience, otherwise called "spec actors," are welcome and encouraged to intervene in the scene or replace an actor on stage. The scenes typically depict some form of injustice, so it's the spec actors' jobs to step in try to change the situation.
On Saturday 35 participants, a mix of Institute and CSUMB students, chose themes to work on in small groups. The topics ranged from systemic racism to mental illness, and each group prepared a short scene accordingly. More people joined the workshop for performances on Sunday. "It went even better than I expected," says Danyluk, who has been working to bring the event together since early fall. She contacted the facilitators Levana and Tele'jon, who are well known in the world of Theater of the Oppressed in San Francisco, coordinated with interested students from CSUMB, and applied for funding through Middlebury Institute student council.
Alcide "Three" Guillory III MAIEM/MPA '16 participated in the workshop because he had a great experience attending a PLAY improv workshop for students in the spring semester. "It was a nice alternative way of thinking- it lightened up the world of international policy," Three shares. He caught a bit of the theater bug several years ago when he participated in the Japan Exchange and Teaching Program (JET) in rural northern Japan, when he acted as a narrator in several English Musical community theater productions. His role was to be one of the few characters who would break the 4th wall and speak in Japanese to the audience. "It was cool to see the complexity in such short performances. Rather than one simple idea, it wound up being this multi-layered thing," Three says of the workshop Danyluk organized.
Danyluk, who has a background in theater herself, saw the workshop as an opportunity for students to practice mixing performing skills with their fields of study. She attended a small high school in Guantanamo Bay, Cuba, and says she became accustomed to the idea that, "if you don't have it, create it." She built her own theater programs from the ground up in high school and later in college. Her interest in performing eventually led her to the Clown Conservatory in San Francisco, where she completed a yearlong professional program.
Rather than viewing performing as a side hobby, she strives to combine her performance skills with her studies and activities at the Institute, noticing links between the two, like human interaction and empathy. "Humor is such a powerful tool," says Danyluk, "even to address serious issues."