Winter Commencement Celebrates 108 Graduates from 14 Countries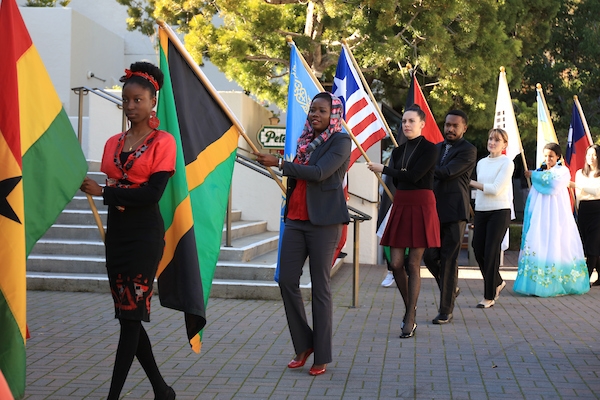 Like any graduation ceremony, Winter Commencement 2016 at the Middlebury Institute of International Studies marked both an ending and a beginning. On a sunny, brisk December afternoon in Monterey, family, friends, faculty and staff celebrated 108 graduates from 14 countries in a ceremony that also featured comments from Commencement Speaker Dr. Amy Sands, who is retiring this month after 20 years as a senior administrator at the Institute.
In her remarks, Sands suggested that "we live in dynamic times, whose pace and scope of change can be mind boggling," noting that her PhD thesis focused on the flow of information in the 19th century, when it might take a year or more for news of an event to travel across the ocean—but now the same kind of information circles the globe in minutes. In the face of challenges like these, though, she assured the graduates that they have the skills "to be effective professionals, to make contributions within your chosen fields, and to make a difference."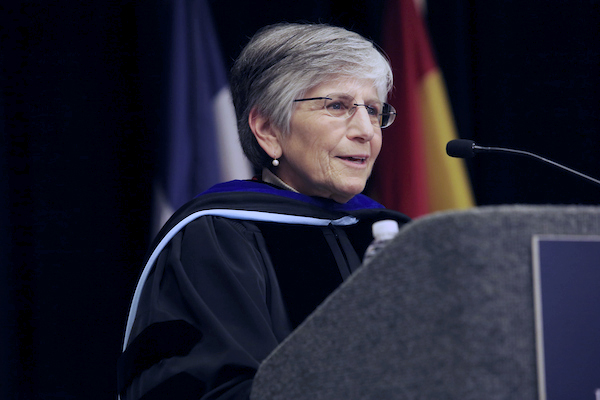 Sands will retire at the end of December after a distinguished 20-year career at the Institute (see our recent in-depth interview) that included seven years as deputy director of the James Martin Center for Nonproliferation Studies, two-plus years as dean of the Graduate School of International Policy Studies, and eight years as provost.
Addressing the post-election political climate, Vice President for Academic Affairs and Dean of the Institute Jeff Dayton-Johnson noted that one of the key challenges for American society today is "to find ways to communicate across barriers, whether they are social, economic, political, ideological, cultural or linguistic," adding that these kinds of conversations are why the Middlebury Institute exists. He encouraged students to "engage in difficult conversations, live your values, and remember where you came from."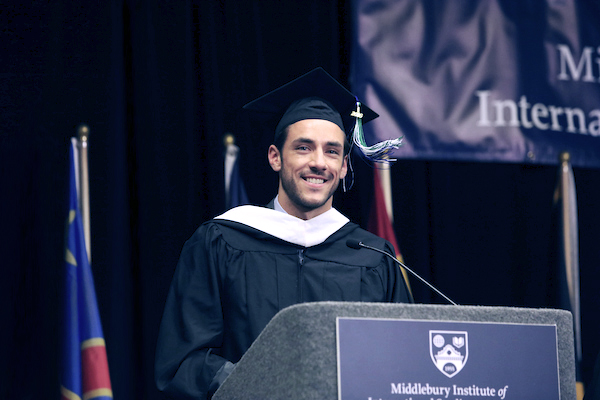 Student speaker Danny Pavitt MAIPD '16 spoke of the dedication, empathy, and unique individualism he had experienced as a student, and encouraged his fellow graduates to believe in their own potential to effect change. "Share your personal worldview," he told them. "Challenge yourself to see old things in new ways. And never underestimate how our seemingly insignificant ideas could shift the world forward."
The 108 students, who earned degrees in 12 different Institute programs, hailed from China, Democratic Republic of Congo, Dominican Republic, Ghana, Jamaica, Kazakhstan, Liberia, Palestine, Republic of Korea, Sweden, Taiwan, Trinidad and Tobago, the United States, and Venezuela.