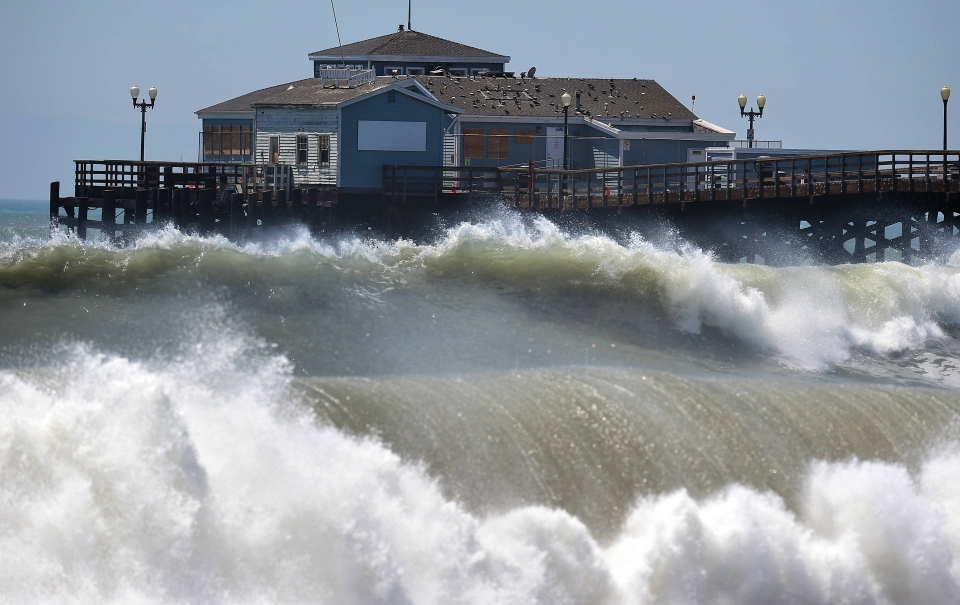 Climate change is driving ocean warming and rapid melt of glaciers and ice sheets. With rising sea levels, coastal communities around the world are facing the imperative to relocate both people and infrastructure to higher ground.
Hundreds of millions of people live in low-lying coastal areas in mega-cities in the global south.  In California, the Coastal Commission will issue guidance to coastal towns and cities in December on managed retreat in coastal planning. In the US, there have already been a number of cases of 'managed retreat', some of which have left people worse off.  Coastal climate relocation poses huge management challenges: Where will people go? What will happen to them when they get there? Who will decide? How will relocation be funded? This panel brings together three leading experts to explore these questions. 
Coastal climate relocation: How to manage "Managed Retreat?"
Panel Discussion and Q&A
Tuesday, November 12, 2019
6:00pm to 7:30pm
McGowan Building, Room 100
411 Pacific Street, Monterey, CA 93940
Free, open to the public.  No registration required.
Video Available
Slides from Speaker Presentations
About the Panelists
---
Dr. Idowu (Jola) Ajibade, Assistant Professor, Department of Geography, Portland State University
"I am an environmental and human geographer. I apply a political ecology lens to study the intersection of climate change, urban sustainability and societal transformation. My research focuses on how individuals, communities, and cities respond to global environmental change, and their different capacities for adaptation, transformation, and long-term sustainability. Specifically, I explore how sustainability practices, disaster risk reduction strategies, adaptation projects, and future city planning, exacerbate vulnerability, promote eco-gentrification, and foster uneven development.

My research projects fit in with other political ecology work that examines the hegemony of market solutions to climate change and narrow interpretations of sustainability. I consider the concept of climate change, sustainability, and resilience (where justice is silenced) to be an oppressive force hiding the historical connections of the carbon economy to colonialism, uncontrolled capitalism, and unfettered commodification of nature. In my work, I reject conventional and post-politics environmentalism, which gives unbridled power to government and scientific experts, or allows big corporations to dispossess impoverished populations under the guise of sustainability planning and climate change adaptation and mitigation. My research projects examine how the (re) production of urban spaces has deep roots in neoliberal metabolic processes, unequal power relations, and socio-spatial dynamics that lead to environmentally degrading outcomes, uneven socio-ecological development, and perpetuation of winners and losers.

In my work, I emphasize transformative ideologies that allow for the articulation of multiple and alternative trajectories of future socio-environmental and socio-economic possibilities, i.e., of human-to-human and human-to-nature assemblages. This includes exploring unconventional approaches and partnerships such as the role of social entrepreneurs, grassroots coalitions, cooperatives, and small businesses in promoting a shareable economy, sustainable lifestyle changes, low-carbon development, and socially just resilience planning in cities."

Education:  Ph.D. Geography and Environmental Sustainability (2013) Western University Canada; M.A. International Law and Human Rights, (2006) University for Peace, Costa Rica; B.A. Philosophy (2004) Obafemi Awolowo University, Nigeria
Topic Speaker will address:  Who retreats? Who reclaims? Emerging policy, practice, and environmental justice in global south coastal mega-cities
---
Dr. Charles Lester, Director, Ocean & Coastal Policy Center, Marine Science Institute, University of California, Santa Barbara
Dr. Charles Lester is the director of the Ocean and Coastal Policy Center in the Marine Science Institute at UC Santa Barbara, where he researches, writes, and advises about sea level rise, coastal resilience, and other aspects of California coastal law and policy. Charles previously worked for the California Coastal Commission for twenty years, including serving as the agency's fourth executive director from 2011 to 2016.  In 2015, he led the agency's completion of California's first comprehensive land use guidance for addressing sea level rise and coastal protection on the outer coast. Previously, Charles was an assistant professor of political science at the University of Colorado, Boulder, where he taught environmental law and policy, with a focus on public lands governance and coastal zone management. He received his Ph.D. and J.D. from UC Berkeley, and a B.A. in Geochemistry from Columbia University.
Topic Speaker will address:  Managed retreat in Coastal California: Mandates and Challenges
---
Dr. A.R. Siders, Associate Professor, Biden School of Public Policy and Administration and the Department of Geography, Core Faculty Member of the Disaster Research Center, University of Delaware
Siders' research focuses on climate change adaptation governance, decision-making, and evaluation. Her recent projects have focused on managed retreat as an adaptation strategy and the social justice implications of coastal adaptation.  As an interdisciplinary scholar, Siders combines approaches from hazards geography, law, digital humanities, and computational social science. She collaborates with consulting companies and non-profit organizations to integrate climate change adaptation into disaster risk reduction and resilience building. Her work spans several geographic regions, including infrastructure development in the Arctic, coastal defense in the United States, and urban resilience in Africa, Europe, and South-East Asia.

Siders previously served as a Presidential Management Fellow with the U.S. Navy, an associate director of the Center for Climate Change Law at Columbia University, and an environmental fellow at the Harvard University Center for the Environment. She is a research fellow with the Earth Systems Governance Program, Florida Earth Foundation, Global Center for Climate Resilience, Climigration Network, Ocean Visions, and Earthquakes and Megacities Initiative. She holds a J.D. from Harvard Law School and a Ph.D. from Stanford University. She is originally from Duluth, Minnesota, and misses the cold.
Topic Speaker will address:  Does managed retreat increase social vulnerability? The US experience
---
Recommended Reading
Lecture Location:  McGowan 100
The McGowan Building is located at 411 Pacific Street, Monterey, CA  93940, on the corner of Franklin and Pacific. Enter from Pacific street through a set of glass double-doors (use set of doors on the left), MG100 is inside on immediate left.   View the campus map.
Parking
Parking is available in any Middlebury Institute campus lot after 5 p.m., or on the street (time limits on surrounding streets end at 6 p.m.)
Questions
Contact Rachel Christopherson at the Center for the Blue Economy at cbe@miis.edu or (831) 647-4183.