Diverting Hate: Addressing Extremist Violence Across the World and at Home
–
McCone Irvine Auditorium
499 Pierce Street
Monterey, CA 93940
View in Campus Map
Open to the Public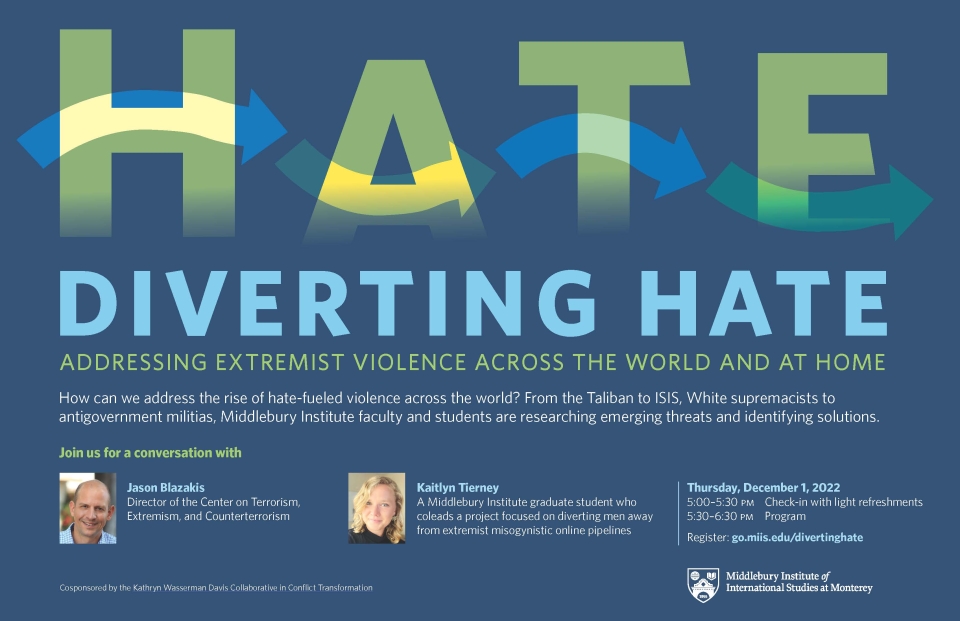 A Community Talk with Jason Blazakis and Kaitlyn Tierney
How can we address the rise of hate-fueled violence across the world? From the Taliban to ISIS, White supremacists to anti-government militias, Middlebury Institute faculty and students are researching emerging threats and identifying solutions.
Join us for a conversation with:
Jason Blazakis, Director of the Center for Terrorism, Extremism, and Counterterrorism. Blazakis is a professor at the Middlebury Institute of International Studies (MIIS). The focus of the Center's work includes research in a range of areas, including threat financing, sanctions, violent extremism, both international and domestic and the means to counter transnational threats. To read more about his career, visit his faculty page.
Kaitlyn Tierney, Middlebury Institute graduate student Tierney co-leads a project focused on diverting men away from extremist misogynistic online pipelines.
Thursday, December 1, 2022 from 5:00 p.m. - 6:30 p.m. 
5:00 p.m. - 5:30 p.m. - Check-in with light refreshments 
5:30 p.m. - 6:30 p.m. - Program
Free public event. Registration required. Zoom option available.
This event is co-sponsored by the Gerry Taylor Seminars Endowed Fund and the Kathryn Wasserman Davis Collaborative in Conflict Transformation. A collective of Middlebury faculty, staff, and students, the Collaborative fosters meaningful partnerships and action-oriented student experiences in domestic and international contexts around the globe. 
Register here: http://go.miis.edu/divertinghate
Sponsored by:

MIIS - Institutional Advancement