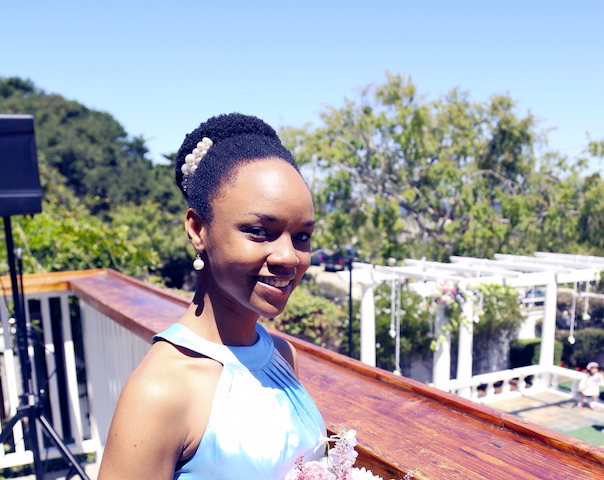 Middlebury Institute graduate Lauren Thompson MBA/TLM '14 fell in love with Japanese language and culture through anime, or Japanese animation. As an undergraduate she attended the Middlebury Language Schools one summer, where she immersed herself in the language for nine weeks in preparation for a year-long study abroad program in Tokyo. After graduating with an undergraduate degree in Asian studies, she returned to Middlebury to work at the Japanese school, where she first heard of the Institute. "I knew I wanted to do business and continue to develop my Japanese language skills and I had found a place where I could do both."
She applied for the MBA program and enrolled in the Japanese school again, "this time to freshen up my rusty Japanese and earn credits towards my degree," she shares from Tokyo, where she now lives. Before graduating in May of 2014, Thompson had turned an internship into a full time position at Sony Corporation in the Business Development Department, where she works to facilitate collaborative business activities between Sony's electronics and entertainment companies.
The position at Sony would not begin until ten months after she graduated, so to fill that gap, she worked at a private English school and language services company in Japan that is owned by Kentaro Tamai MBA '14, a classmate at the Institute. "It was a great opportunity because it allowed me to get more accustomed to working in Japanese."
Thompson returned to Monterey in August to be the maid of honor in Aiko Nakamura's MATESOL '14 wedding. The joyous occasion was a mini-reunion for recent alumni. Thompson's speech and other performances were interpreted by fellow bridesmaids Chiyo Mori MACI '13 and Chikako Tanada MATI '13 and groomsman Shinichiro Tanaka MATI '14, and the program, poems and invitations were translated by them as well. Rie Tada MATFL '14 gave a bilingual speech and Cameron Chien MATFL '15 was the official videographer.
Thompson's advice to current students is to make the most of everything while attending the Institute, "to learn a new language and have interest in other subjects and other people outside your field." Be open to unexpected connections and remember that "the people you network with will more than likely be the ones who hire you or help you get hired, as well as the people whose weddings you plan, whose families you become a part of, and whose funerals you will attend." She goes on to say that "the bonds you create with your fellow colleagues and faculty will stay strong long after you graduate."