Alumni Achievement Award Recipients Celebrated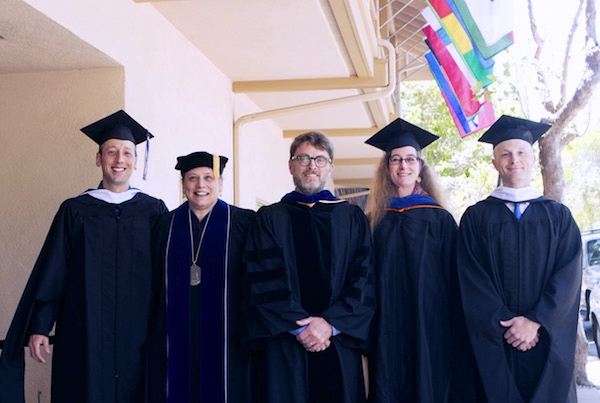 Launched in 2012, the Middlebury Institute Alumni Achievement Awards recognize outstanding work and citizenship of Institute alumni. As they are each year, the awards were presented at Spring Commencement on May 20.
"The MIIS alumni network has been a critical component of my career," says Alumni Achievement Award recipient Grant Ennis MPA '11. "These are the people I call to strategize my career development and these are the people I see when I travel around the world, and who come stay on my couch, and are my closest and best friends. It's a wonderful network and family."
Here are the four alumni recognized in 2017:
The Distinguished Alumni Award was presented to Jennifer Brinkerhoff MPA '90. Brinkerhoff is professor of public administration and international affairs, and associate dean for faculty affairs and special initiatives at the Elliott School of International Affairs at George Washington University. She holds a Ph.D. in public administration from the University of Southern California in Los Angeles. She teaches courses on public service, international development policy and administration, development management, and organizational behavior. She is particularly keen on encouraging people to pursue service careers thoughtfully, grounding their commitment to change in self-awareness and working in community. Her publications include seven books, as well as five co-edited journal issues and over sixty articles and book chapters.
The 2017 Graduate School of International Policy and Management Young Alumni Achievement Award recipient is Grant Ennis MPA '11. Grant is a government relations, policy advocacy, and management specialist with experience in the Middle East, Asia, Latin America, and Africa. Three weeks after graduating from the Middlebury Institute, Ennis moved to Iraq to support mediation efforts with parliamentary and regional government actors. Later, he went on to lead efforts engaging the Syrian political opposition for Norwegian People's Aid, while providing humanitarian assistance for over a hundred thousand people across northern Syria. Ennis currently serves as Vital Strategies' Asia-government liaison for a $125 million Bloomberg Philanthropies public health initiative while managing a team of 25 professionals. Throughout this time, he has volunteered to help Middlebury Institute alumni build their own careers, hiring and collaborating with students on a number of projects.
The 2017 Graduate School of Translation Interpretation and Language Education Young Alumni Achievement Awards recipient is Ryan Damerow MATESOL '11. Ryan Damerow is chief operating officer of The International Research Foundation for English Language Education (TIRF). Damerow manages a multitude of activities for TIRF, including marketing, fundraising, publishing and more. He is currently a co-editor of the TIRF-Routledge series on Global Research on Teaching and Learning English. Collaborative efforts from Ryan, TIRF Trustees, and the Foundation's supporters resulted in TIRF receiving the 2017 TESOL Presidents' Award. As part of the Peace Corps Master's International program at MIIS, Damerow served as a Peace Corps Volunteer in Chongqing, China, where he taught oral English and intercultural communication at Sichuan International Studies University.
The Alumni Volunteer Service Award for 2017 was awarded to Magdy Ibrahim BAPS '85. As the Egyptian-born son of a high school teacher and a banker, Magdy Ibrahim seemed an unlikely candidate to become co-owner of a French restaurant in Carmel. Ibrahim's dreams of traveling to the United States eventually came true and he came to Monterey to attend the Institute, working in the hospitality industry while in school. After receiving his B.A. in international policy studies in 1985, Ibrahim was reluctant to leave the area and in 1989 he became the owner of Patisserie Boissiere, a Carmel institution. Over the years, he has volunteered his time again and again in support of the Institute, serving on committees, attending events, and spreading the word. Most recently, he served as chair of the eMIISsaries, a group designed to promote awareness of Institute events and activities in the community.
The four awardees are a testament to the deep connections and benefits offered by an international alumni network that many new Middlebury Institute graduates come to rely on in their lives and careers. "It is such an honor to be given this award," said Brinkerhoff, "it is really meaningful."