Alumni/Student Startup Urbavore Receives $15,000 Grant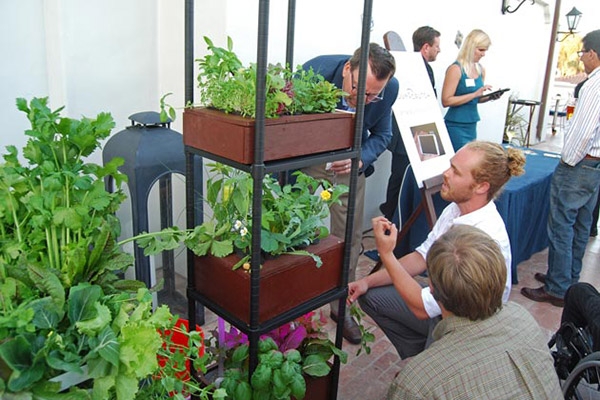 Urbavore, an ag-tech startup led by two Middlebury Institute alumni and two current students, was recently awarded a $15,000 grant from the UCSC Carbon Fund and Measure 43 UCSC Initiative at University of California Santa Cruz.
The goal of the Urbavore team—alumni Kenji Tabery MAIEP '16 and Janna Ratzlaff MAIEP '15, and graduating students Hesham AlSaati MBA/MAIEP '17 and Flynn Pollard MPA/MAIEP '17—is to develop and bring to market "low-cost, sustainable, space-efficient home hydroponics systems designed specifically to improve food security and reduce the environmental costs of food production."
The grant represents an important milestone for a fledgling enterprise that began as a class project at the Institute. Explains Tabery, "Our team began working on this food sustainability idea in 2016 as part of a class project in a course called 'Green Business Feasibility Assessment' taught by international environmental policy professor Jeffrey Langholz, with additional support from staff at the Center for Social Impact Learning."
After completing their first prototype in August 2016, the Urbavore team partnered with UCSC engineering students to help design and optimize the technological components of the system to increase resource efficiency and reduce the unit's carbon footprint. Tabery says that the team's short-term goal for the project is to develop, working with the UCSC engineering team, "a resource-efficient prototype that produces up to 200 pounds of fresh organic produce annually with a minimal carbon footprint" by June 2017.
Urbavore will then use two prototype units to launch a pilot project this fall, providing them to UCSC food-insecure students and community members to increase their access to local nutritious organic produce. In both Monterey and Santa Cruz Counties, one in three residents don't have access to fresh, affordable produce. According to Tabery, Urbavore's longer-term goal is to "develop partnerships with local hunger relief organizations in Santa Cruz and Monterey Counties to distribute our units to local students and communities facing food insecurity."
The UCSC Carbon Fund is a granting body that funds projects that reduce the community's carbon footprint, and that "directly reduce greenhouse gas emissions, conduct relevant research, or carry out educational programs." Measure 43, the UCSC Sustainable Food, Health and Wellness Initiative, offers "funds to support student research and education projects, and visiting speakers whose topic is related to food, health and wellness, and who will engage UCSC students."