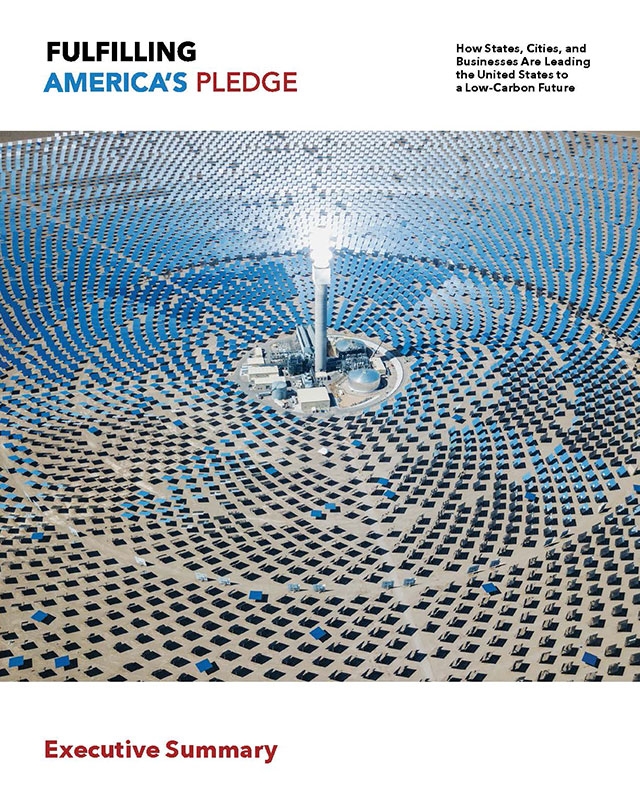 Alumnus Arijit Sen MAIEP '16, now a PhD candidate at the University of Maryland, College Park, contributed to a recent high-profile report on local and regional efforts to reduce carbon emissions. The report, "Fulfilling America's Pledge: How States, Cities and Businesses Are Leading the United States to a Low-Carbon Future," was issued by America's Pledge, an initiative co-chaired by former New York City Mayor Michael R. Bloomberg and California Governor Jerry Brown, and underwritten by Bloomberg Philanthropies.
"Most of my spring and summer was spent in doing analytical work on the America's Pledge report using integrated assessment modelling," reports Sen. "My own dissertation—or part of it—is an offshoot of that."
The full report was released last month and the executive summary is available online. Sen's dissertation explores the potential for state-level policies to meet national targets for reducing carbon emissions in a range of decarbonization scenarios, with special attention to incentives affect the energy choices made by households.
"Arijit worked hard and was extremely focused in his studies at MIIS," says Professor Lyuba Zarsky. "He used every opportunity to beef up his policy and communication skills in energy management. I was confident that he would thrive in a PhD program and am thrilled that he is well on his way to becoming a high-level energy researcher."