Alumnus Michael Blakeley: Recruited for International Trade Career Before Graduation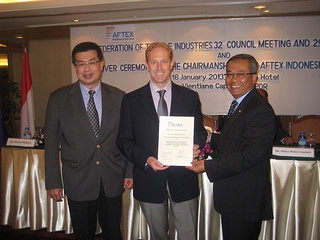 After working for seven years in international business, mostly in developing countries, Michael Blakeley (MACD '01) felt it was time to take his career to the next level with a master's degree. His search led him to the Monterey Institute, where he found the degree in Commercial Diplomacy, a precursor to the current International Trade and Economic Diplomacy program. "It was the perfect fit for me," he says of the degree which also allowed him to take courses from the international trade policy program.
While still at MIIS, Michael was recruited by Nathan Associates Inc., a consulting firm that specializes in international development and trade. "They employed two other MIIS grads," explains Michael, adding that it also helped that one of his professors recommended him to them. "In the 12 years that I have worked there, I have managed multiyear projects overseas in Madagascar, Morocco, and Thailand," says Michael, who now serves as the managing director of enterprise and industry development. The international development business offers a lot of opportunities for work in government, NGOs and academia, and he has considered all of those options, but feels that he personally can be more effective in a private-sector setting.
Michael says that he learned many things at MIIS that have helped him in his career. Firstly, he says that the Institute prepared him very well for building relationships and conducting himself with people from different cultures, different norms and standards, which he believes is a critical set of skills for getting results. "Embrace all of the cross-cultural and language opportunities you can," is his advice to current students. Secondly, he notes the lessons he learned about being open to new perspectives. "Being open like that can be hard, especially when working in government, but often I have found people, even from the poorest countries, with no education, have good ideas and better knowledge of what works locally." Finally, he notes the shared experience and love for MIIS that draws people together, often for life. For Michael, that last point is especially poignant because it was at MIIS that he met his wife Elaine – "and we know at least three other couples that are MIIS Matches!"