Army Vet / Language Nerd, Seeking Peace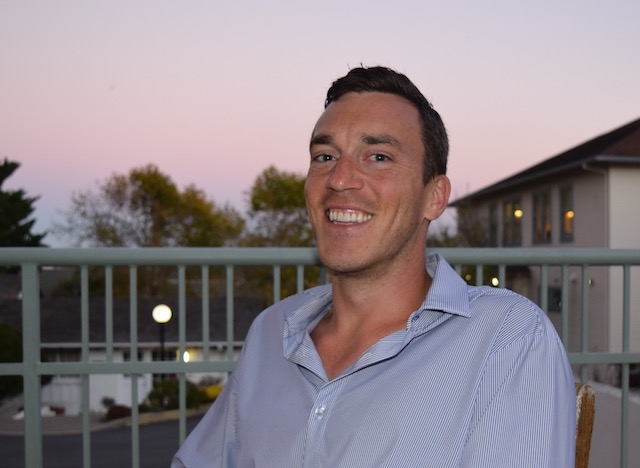 On September 11, 2001, Andrew Meador MANPTS '18 was in biology lab at college, thinking of becoming a medical doctor or evolutionary biologist. "I had inclinations towards public service and especially the military, but I was not committed to that as a choice until after that day," he remembers. Meador is now pursuing a graduate degree in Nonproliferation and Terrorism Studies at the Middlebury Institute.
Meador's parents convinced him to finish college, but upon graduation he enlisted in the Army as a combat medic. After completing his training, he moved to Okinawa, Japan for three years of deployments and training missions to countries including Thailand, Afghanistan, and the Philippines. Meador specifically recalls his time spent in Afghanistan, lamenting that "almost all of my trauma patients in war were innocent Afghan civilians caught in the wrong place at the wrong time, especially children, often injured or killed by roadside bombs."
After leaving the active duty military, Andrew attended the School of Japanese at the Middlebury College campus in Vermont. During his time at the language school, he "spoke often with a Hiroshima atomic bomb survivor, and saw in her a unique level of forgiveness and compassion." Eighty-three-year old Hiroshima survivor Shigeko Sasamori gave several presentations at the Japanese school. Some years after the war ended, Sasamori came to the US for plastic surgery to lessen the severity of her facial keloid scarring, and she felt so cared for by her hosts and benefactors that she decided to stay. She currently resides in Los Angeles and visits Middlebury every summer to speak to the students studying Japanese.
Sasamori's influence, combined with getting to know Middlebury Institute students who were also spending the summer improving their language skills in Vermont, led Meador to take a serious look at attending graduate school. He is passionate about peace and security and knows how important language can be, as a means of communication, expression of identity, and bridge to understanding.
As part of his military service Meador studied Chinese, and that is the language he has chosen to focus on at the Institute. "Although I have good grasp of Japanese, my Chinese level is higher. I've decided to devote myself to developing more advanced Chinese instead of spreading myself too thin." He appreciates the opportunity to develop his language through content-based classes, and no one will accuse him of going through the motions in his language courses. Meador is currently enrolled in two Chinese courses, participates in B.U.I.L.D. (the free, beginning-level language classes taught by MIIS students), has a language partner, and listens to the news in Chinese every day. "I am applying for language fellowships over the summer and through next year. Chinese is becoming a more global language and the impact I can have should be greater as I continue to learn."
Reporting by Danny Pavitt MAIPD '17