Prepare for a career in global security through our unique master's program, which focuses on the challenges posed by terrorism, weapons of mass destruction (WMD), and financial crime.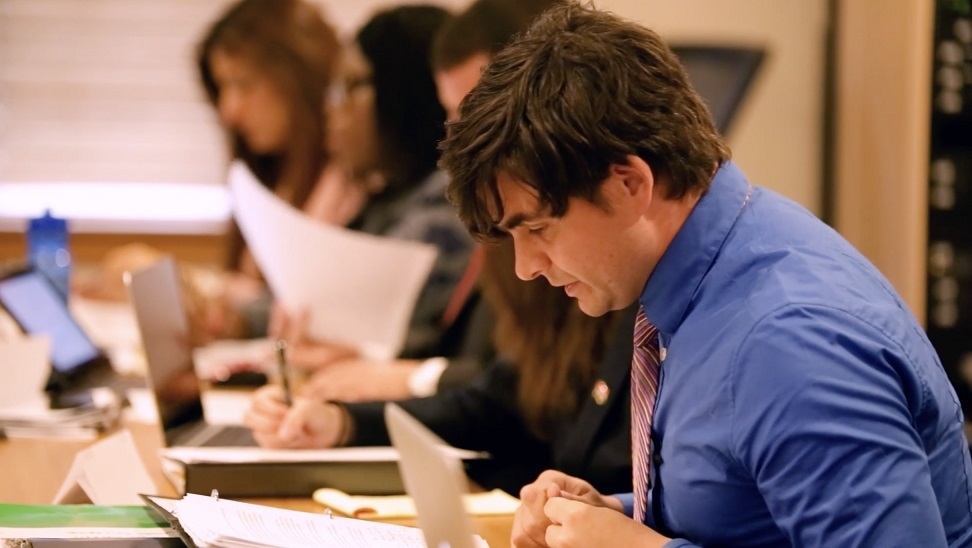 Advance Your Career
Our Nonproliferation and Terrorism Studies (NPTS) degree is a career-focused security studies master's, taught on our Monterey, California, campus. By learning how to counter threats posed by terrorism, financial crimes such as money laundering, and nuclear, biological, and chemical weapons, you'll acquire specialized knowledge and skills that will distinguish you from graduates with less-focused international affairs degrees. You'll be prepared to work at international organizations; government agencies, including the intelligence community (IC), think tanks, and NGOs; and a range of private-sector employers, including the nearby Silicon Valley tech industry.
Find out if NPTS is right for you
What You'll Learn
Our rigorous, professionally focused curriculum will prepare you for a career addressing national and global security concerns associated with WMD proliferation, violent extremism, and illicit financial activities. Our unique program involves a blend of classes, workshops, and hands-on experiences that provide students with both subject-matter expertise and training in practical skills that are in high demand by employers.
Our interdisciplinary curriculum covers international security, science and technology, history, and regional studies, along with language studies and significant real-world opportunities to apply your learning to. Flexible degree requirements mean you can tailor the program around your interests, including opportunities to explore new research tools such as satellite imagery analysis or emerging threats such as those associated with the cyber domain.
You'll benefit from our purposefully small class sizes, which allow for maximum collaboration with faculty, including opportunities to coauthor papers and work on research projects sponsored by government agencies, think tanks, and foundations.
Earn this 60-credit degree over four semesters. If you have relevant course work and/or experience, you may be able to complete the degree in two or three semesters.
See curriculum for more details.
4
-semester, 60-credit master's
65

+
employers of recent graduates
Customize Your Degree
STEM

 Designation

The MA in Nonproliferation and Terrorism Studies is designated as a STEM (Science, Technology, Engineering and Mathematics) degree program. International students who graduate from this program, and who are eligible to apply for standard Optional Practical Training (OPT), may also qualify to apply for a STEM 24-month extension of their work authorization. Please visit International Student and Scholar Services (ISSS) to read more about eligibility requirements for Optional Practical Training (OPT) and the 24-month STEM extension.

U.S. citizens and permanent residents can take advantage of a number of scholarships only available in STEM-designated degrees.
Dual Degree Option
Focus your career on WMD issues and U.S.-Russia relations with the Institute's Dual Degree in Nonproliferation Studies with the Moscow State Institute of International Relations (MGIMO).
Financial Crime Management
The Financial Crime Management specialization gives you the skills and confidence to pursue a career in private-sector compliance and investigations, government intelligence, training and research with multilateral organizations, and anticorruption compliance for NGOs.
Naval Postgraduate School Courses
Our partnership with the Naval Postgraduate School (NPS) gives you access to a broad array of courses with the Department of National Security Affairs and Department of Defense Analysis. You will learn in a military environment, gaining new perspectives on international security issues and expanding your professional network through NPS faculty and students. This opportunity is only available to U.S. citizens.
Research and Internships
Build valuable professional experience while earning your degree and be ready for a career in intelligence analysis, policy analysis, or international security research as soon as you graduate. You'll benefit from two world-famous research centers based at our Monterey campus. These centers enhance your education with opportunities for graduate research assistantships, hosted talks with a variety of leading experts, and organized conferences and other events.
A Degree Worth Investing In
Our NPTS degree program and associated research centers are held in high regard by specialists in WMD nonproliferation and counterterrorism; the word "Monterey" is synonymous with our reputation as one of the leading educational programs in the world in these fields.
Earn your NPTS degree at the Institute and you'll graduate prepared to build a career in growing, high-demand international security professions and ready to join the ranks of our successful alumni. Our highly influential alumni network will open doors to internships and jobs across national governments, international organizations, think tanks, private contractors, and other private sector firms.
The NPTS degree is a meaningful investment in your future—and you'll benefit from our generous scholarships, grants, and other aid.
Professors and Practitioners
Be taught by prominent scholars and practitioners who are known worldwide. NPTS faculty are regularly featured in the media for their groundbreaking work on nonproliferation, counterterrorism, and global threat financing. They are active in international diplomatic forums, interact with government officials on current policy issues, conduct policy-oriented research, and develop new tools to monitor the threats of terrorism and weapons of mass destruction.
Your professors are genuinely committed to your success and will become your mentors and colleagues throughout your career. Meet your faculty.
Hear from some of our experts:
Professor Jeffrey Lewis, director of the East Asia Nonproliferation Program at

CNS

, explains how we use language skills, satellite photographs, and 3D models to monitor North Korea's nuclear and missile programs, all without ever leaving the splendor of the Monterey Peninsula. Watch the video.
Professor Moyara Ruehsen explains our Financial Crime Management specialization and the exciting careers it opens up—from investigative units at private banks to the

FBI

to compliance at tech companies like AirBnB. Watch the video.
Professor Jason Blazakis, director of the Center on Terrorism, Extremism, and Counterterrorism, discusses the current domestic threat landscape and the steps policy makers should take to counter the rise of right-wing terrorists in the

U.S. 

Watch the video.