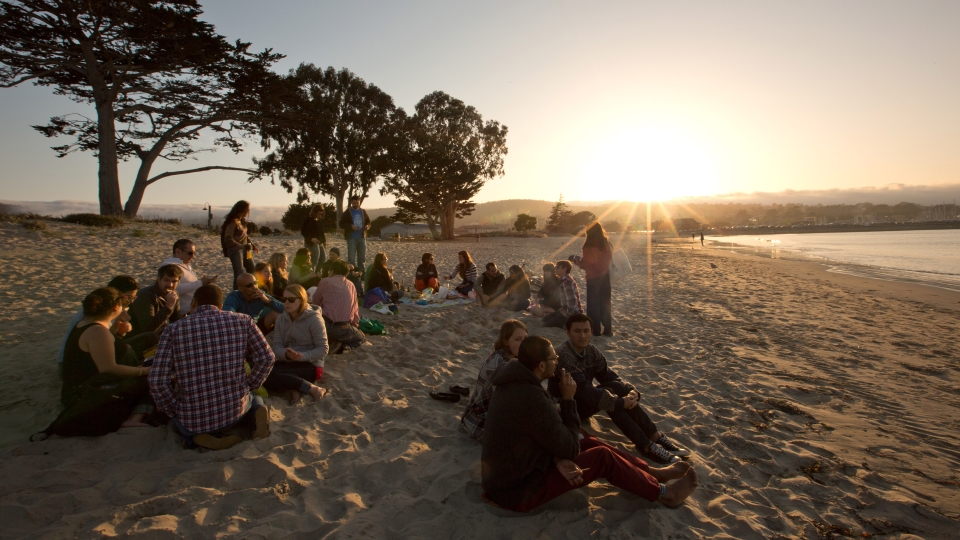 We're opening our virtual and in-person doors just for you.
Webinars: Feb. 28–Apr. 12 | In Person: April 14–15
Our next Preview Days will feature both virtual and in-person events. We will have weekly webinars from February 28 to April 12 and in-person events on April 14–15. Please check out the schedule below (all in Pacific Time) and sign up.
Anyone who signs up for a webinar will receive a recording.
Sign Up
New Careers and Trends in International Education
Post-pandemic, the international education field has seen exciting growth. Join renowned international education professionals Katherine Punteney, David Wick, and Daniel Chatham as they cover new opportunities and the skill sets you need to thrive in this dynamic field.
Women in International Trade (Career Panel)
Within one year of graduation, 99 percent of our international trade graduates are employed—many in their dream jobs—and 38 percent are earning $81K+ annually. The ever-expanding field of international trade is often overlooked. Our panelists Anne Marie Caton MAITED '20, Annathea Cook MAIPS '16, and Caroline Stringer MAITP '08 will share their experiences and impressive careers. Moderated by Julius Moye MAITED/MANPTS '21.
The Art and Science of Video Game Localization
This event has now passed but you can still sign up to receive the recording.
Do you want to help launch video games that people around the world love? Join Professor Max Troyer and graduates of our MA in Translation and Localization Management (TLM) who are working in this vibrant industry. We will consider the different pathways to enter the field, including freelance linguist, quality assurance, project management, vendor management, and program management. Here's your chance to hear from those who have successfully broken into the gaming world. 
Sign up to receive the recording. 
Supporting Homeless Services with Data Science
California has the largest homeless population in the United States. The Middlebury Institute META Lab is evaluating the Coordinated Assessment and Referral System (CARS) on behalf of the Coalition of Homeless Services Providers (CHSP). This study employs a mixed-method research approach that includes survey questionnaires, focus groups, and quantitative data analysis to assess client and provider satisfaction with the CARS process, as well as the effectiveness of the present process in housing clients and referring clients. The final report will help CHSP to measure how well the CARS system meets its compliance and effectiveness goals, as well as help explore the areas of greatest strengths and shortcomings, which will be utilized to suggest improvements to the program's policies, procedures, and community investment. Professor Phil Murphy and several student researchers will discuss their work. 
The Future of Food: Emerging Technologies in Cell- and Plant-Based Food Production
This event has now passed but you can still sign up to receive the recording.
Next to decarbonization, ending the industrial animal agriculture system is essential for global sustainability. In this talk, Dr. Jason Scorse will provide an overview of how the current system is the worst of all worlds—environmentally unsustainable, unhealthy, and cruel—and he'll discuss the new technologies (and policies) that can help pave the way to a more just and sustainable system. 
Sign up to receive the recording. 
Peacebuilding and Reconciliation in the Balkans
Webinar: Wednesday, March 29, 4:00 p.m. Pacific Time
Dr. Thor Sawin leads a fieldwork program for Middlebury Institute students to the Balkans to explore the events after the breakup of Yugoslavia and analyze the roles identity, religion, language, and political ideology played in the conflict. Dr. Sawin will discuss what his students discovered in the most recent trip and share how some of the ideologies in the time period leading up to the breakup of Yugoslavia are still present today. He will compare and contrast what has been effective in transforming the postconflict societies that they visited. Sign up.
The Rise of the Violent Radical Right
Webinar: Wednesday, April 5, Noon Pacific Time
The violent radical right is on the rise globally and its various manifestations are not just talking to one another, but actively engaging together in ideological radicalization, sharing tactics, and even sharing transnational terrorism plots. From the activities of the January 6 and January 8 insurrections in the U.S. and Brazil, to Brexit and the war in Ukraine, the violent far right is building a digital community venerating mass shooters. The same core principles are spurring contemporary actors—rejecting liberalism and embracing traditional values. A central question that begs an answer is whether we can meaningfully counter this rise or if legal systems' limitations, such as the lack of an American domestic terrorism statute, can overcome decades of focus on the global war on terrorism to adapt to a new threat. Matthew Kriner, senior research scholar at the Center on Terrorism, Extremism, and Counterterrorism (CTEC) will share insights and the center's work developing solutions. Sign up.
Impactful Relationship Building with Central California Indigenous Community Partners
Webinar: Wednesday, April 12, 4:00 p.m. Pacific Time
CoLab is a Middlebury Institute and California State University Monterey Bay initiative that brings together nonprofits, local government, and higher education faculty, students, and staff to address complex local community challenges through research, resource mobilization, and joint action on community projects. Hear from Professor Netta Avineri and current student Maria Zaharatos on how the Institute works with the Costanoan Rumsen Carmel Tribe on land use, recognition, and other social justice issues. Sign up.
In-Person Events
Friday, April 14 (Pacific Time)
4:00 p.m. Welcome Reception
Saturday, April 15 (Pacific Time)
9:30–10:30 a.m. Check-In and Coffee (McCone Building, 499 Pierce Street)
10:30–11:00 a.m. Welcome Presentation (Irvine Auditorium, McCone Building, 499 Pierce Street)
11:00 a.m.–Noon Campus Tours (start at the McCone Building)
Noon–1:00 p.m. Lunch (Samson Center)
1:15–2:00 p.m. Breakout Session A (select one):
International Education Management (Hybrid event: McGowan 99 and Online)
Nonproliferation and Terrorism Studies (McGowan 100)
International Environmental Policy (McGowan 102)
Translation, Interpretation, and Localization Management: Part 1 of 2 (Hybrid event: CNS Building Video Conference Room and Online)
2:15–3:00 p.m. Breakout Session B (select one):
TESOL and Teaching Foreign Language (Hybrid event: McGowan 99 and Online)
MPA, International Policy and Development, International Trade (McGowan 102)
Translation, Interpretation, and Localization Management: Part 2 of 2 (Hybrid event: CNS Building Video Conference Room and Online)
3:15–4:00 p.m. Breakout Session C (select one):
Navigating the Admissions Process, Scholarships, and Financial Aid: Join this session if you have not yet applied. (McGowan 100)
Getting Started at MIIS: What every first-year should know: Join this session if you have already submitted an application. (McGowan 102)
4:00–5:00 p.m. Closing Reception (Samson Center)
Several events on Saturday, April 15, are marked "Hybrid event" and allow both in-person and online attendance:
If you plan to attend in person, please select "Saturday Sessions (In Person)" during registration
If you plan to attend online, please select the appropriate "Online Attendee" option during registration
Sign Up
COVID Requirements
Vaccine
We require attendees for our in-person events to have been vaccinated against COVID-19. If you would like to request a waiver of the vaccine policy for medical or religious reasons, please email us at miis@middlebury.edu.
Masks
Our campus is mask-optional and mask-friendly—we ask that everyone be respectful of the masking choices of others.
Campus Map
Please use this interactive campus map to help orient yourself.
Parking
You will see signs for parking at the following locations:
425 Van Buren Street
Jefferson Street (between Van Buren Street and Pierce Street)
Arrival
If you arrive on campus anytime before noon on Saturday, April 15, please walk to the McCone Building (499 Pierce Street) and our team will be there to welcome you. Please note that Pierce Street is closed to traffic on our campus. If you arrive after noon, please check the schedule above to see where you should go.
Accommodations
Depending on the time of year, some hotels offer Middlebury discounts, so before you book please mention that you are attending the Middlebury Institute Preview Days and check if any discounts are available.
Check out Monterey-area hotels.
Directions
The Institute is located in central California in the city of Monterey, approximately 130 miles (210 kilometers) south of San Francisco and 350 miles (560 kilometers) north of Los Angeles. 
#MIISpreviewdays
If you cannot join us in Monterey, follow us on Instagram for our #MIISpreviewdays takeover.
Virtual Preview Days
While you wait for our next Preview Days, you may watch recordings from our most recent event and take a virtual campus tour on our virtual Preview Days page.
Why Preview Days?
Check out these quotes from past attendees:
"The faculty and current students were so welcoming and informative. It definitely solidified my decision to apply."
Ashton D.
"It was a great way to get a taste of what it's like to be enrolled in a program. We met faculty and staff and newly graduated students in our field of study."
Heejung L.
"Attending Preview Days moved the Institute to the top of my grad school preferences. The faculty and students did a great job differentiating it from other programs."
Sam H.
"This is a great opportunity to network with faculty and staff and to meet fellow potential students."
Cameron H.
"My session with the advisor was great! She thoroughly explained what I wanted to know about my degree of interest and answered all my questions."
Julio T.
"I was on the fence about applying and whether or not the Institute was a good fit for me, but now I'm ready to apply. I want to be part of this community of world changers!  
Emily J.