Bailey, Damerow Receive English Language Education Award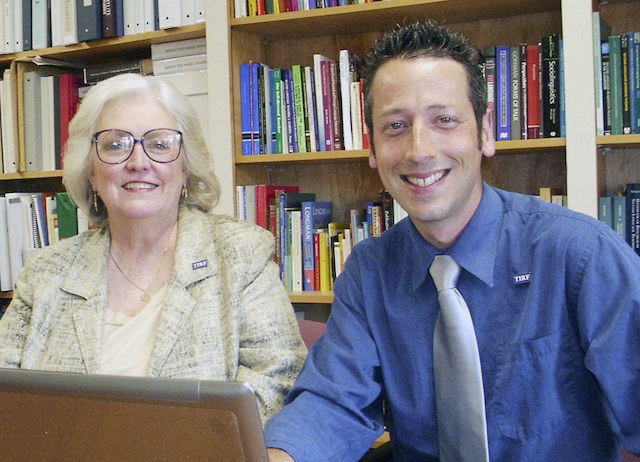 Longtime Middlebury Institute faculty member Kathi Bailey and Teaching English to Speakers of Other Languages (TESOL) alumnus Ryan Damerow MATESOL '10 were recently recognized with the 2017 TESOL International Association's President's Award for their contributions to the field through their leadership of The International Research Foundation for English Language Education (TIRF).
The TESOL President's Award is selected annually by the president of the largest professional organization for teachers of English as a second or foreign language, with over 12,100 members and more than 109 language education organization affiliations worldwide. The award seeks to recognize individuals or organizations who have demonstrated a commitment to English-language instruction, helped TESOL further its mission, and supported education in general.
Bailey highlighted the importance of the team supporting her at TIRF in her response to the accolade. "I am thrilled to see TIRF gain this international recognition from the TESOL International Association. This honor would not have been achieved without a great deal of effort from Ryan (TIRF's chief operating officer). Working with him all these years has been a great source of joy and inspiration to me as a volunteer leader. He's both analytical and intuitive in his management of the Foundation's work. This wonderful award is recognition of the work of many volunteer leaders over the years, but it is also a testament to Ryan's creativity and professionalism."
Founded in 1998, TIRF implements research and development programs to improve the quality of English language teaching and learning, promotes the application of research to practical language problems, collects, organizes, and disseminates information and research on the teaching and learning of language, and influences the formation and implementation of appropriate language education policies. Bailey has served as the volunteer president of TIRF since 2009. Damerow began supporting Bailey's work as president of TIRF while still a student, just after returning from two years of teaching English at a university in China as a Peace Corps volunteer.
The award will be presented to Bailey and Damerow at the TESOL 2017 International Convention and English Language Expo in Seattle, Washington. In his award letter, TESOL President Dudley Reynolds highlighted TIRF's ongoing work to generate, disseminate, and apply new knowledge that advances the field of English language teaching and learning. He cited TIRF's support for students as "particularly noteworthy and deserving of recognition."
Past recipients of this prestigious award include Paulo Freire, Hillary Clinton, the Fulbright Teacher Exchange Program, Senator Paul Simon, George Soros, and the United States Peace Corps.