Building a Network in Spain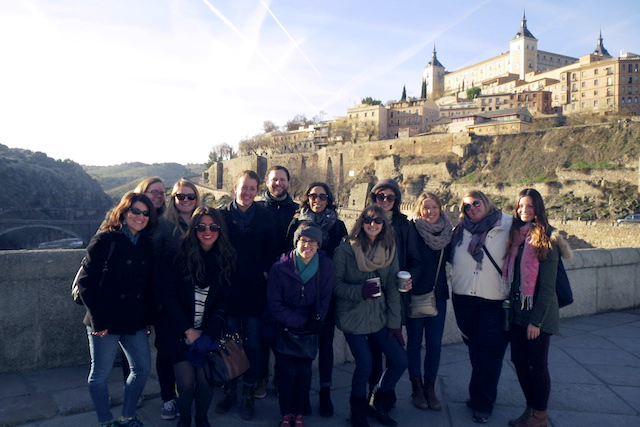 In January 2016 the Middlebury Institute launched its first-ever J-Term course designed specifically for students in the International Education Management degree program. The course, "Onsite Perspectives: Education Abroad Management in Spain," was organized by Professor Paige Butler, who has dreamt of teaching a course like this for years, even before coming to the Institute. Dr. Butler and twelve students spent two weeks visiting education abroad professionals in Madrid.
As Kaitlin Sommerfeld MAIEM '16, explained, the course was made up of three main components: Interacting with staff and students at Sede Prim, Middlebury Schools Abroad Spanish headquarters in Madrid, site visits to other study abroad centers and providers, including CIEE and University of San Diego, and visits to international student offices at Spanish universities, like Universidad Carlos III and UAM.
The group made Sede Prim their home base in a sense, which was not only convenient but provided additional insight as the group arrived a few days before the undergraduate students spending their spring semester abroad. Thus the group was able to observe and participate in onsite orientation, and compare this with their experiences at other schools and centers.
"My biggest takeaway was just getting a more realistic understanding of how different programs can look on the ground, and how that reflects the mission and vision of the organizations," said Becca Sheffield MAIEM '16.
Becca said the group was in a unique position at Sede Prim, because they could view the orientation through three perspectives, that of the staff, that of the undergraduate students, and their own perspectives as graduate student observers. And because they were neither study abroad undergrads, nor yet working professionals (which would make them the competition, in a sense), the staff members at Sede Prim wanted to share a lot of inside information with them, giving them a real picture of what working onsite in education abroad looks like. Staff members would give their official job description, then explain what they actually did day-to-day.
Kaitlin was impressed with the many roles that each of the four full-time employees at Middlebury's center Sede Prim managed to play at any time. "Their job description could be endless. It's like the guy at the circus juggling ten knives – but at the same time, they have the coolest jobs."
The graduate students said it was especially encouraging to see how working professionals responded to the international education management program at the Institute, a relatively new program in a relatively new professional field. "Everyone was so impressed with what we knew," said Kaitlin. "In Spain we opened so many doors."
Becca, who has Spanish language skills from studying abroad in South America, but who had never been to Spain before, said, "Now I feel like I have a professional network in Spain."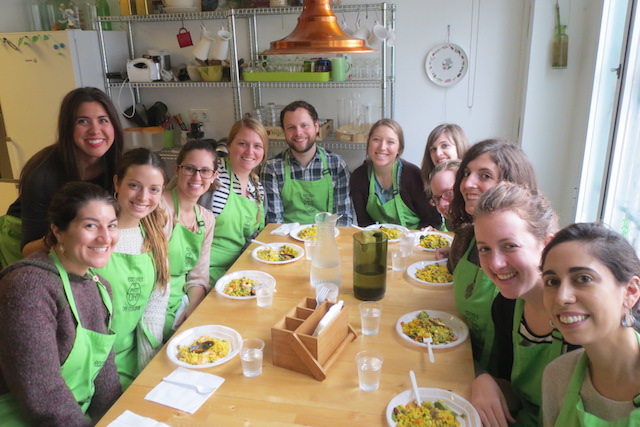 Despite being kept busy with sites visits, group projects, and writing papers, the group still managed to have time to enjoy the city of Madrid. They had a historical walking tour, visited a museum, took a paella cooking class, and had time to eat plenty of churros con chocolate.
Professor Butler is happy with the success of her course. "It was a memorable experience for the students and for me. The students produced highly valued work, and we forged a connection that didn't exist before." She hopes the course continues and leads to more opportunities in the future. The course could even be used as a template to implement in other destinations. "It's too early to tell the exact outcome, but there's definitely a place for it in the future."