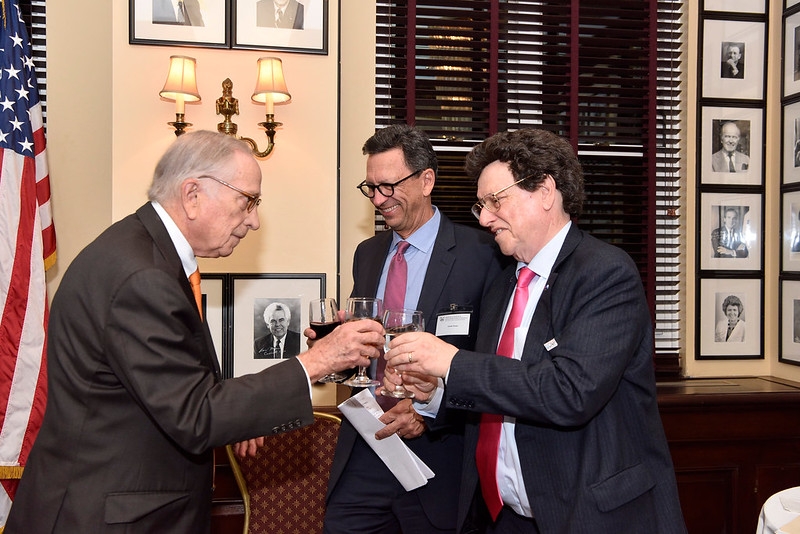 On October 28, alumni, funders, staff, diplomats, other government officials, and friends gathered in Washington, DC, to commemorate the 30th anniversary of the James Martin Center for Nonproliferation Studies (CNS).
The anniversary events commenced with an annual meeting of the Center's International Advisory Council (IAC) at its Washington office, chaired by Founding Director Dr. William C. Potter. Over the course of its 30-year history, CNS has spawned a global, multigenerational network of nonproliferation experts and specialists working in every conceivable capacity in the field. From technical experts at international organizations and national laboratories to career specialists in foreign and defense ministries—as well as leaders in the nongovernmental, academic, and philanthropic fields—CNS has helped build a cadre of nonproliferation and disarmament professionals well-equipped to address the most pressing challenges presented by the existence and spread of nuclear, chemical, and biological weapons. Dr. Potter noted that the need for such a specialized corps is arguably greater than ever before.
Dr. Potter also remarked on the evolutionary character of CNS: while the past year marked the loss of six nonproliferation giants and friends of the Center—Ambassador Roland Timerbaev, Dr. David Hamburg, Dr. Janne Nolan, Under Secretary of State Ellen Tauscher, International Atomic Energy Agency Director General Yukiya Amano, and Senator Richard Lugar—it also marked the rise of a diverse new generation of CNS leaders. They include Jessica Varnum as Deputy Director, Sarah Bidgood MANPTS '16 as the Eurasia Nonproliferation Program Director, Dr. Richard Pilch as the Biological and Chemical Weapons Nonproliferation Director, and, as of January 2020, Dr. Ian Stewart as the new Executive Director of the Washington office. Stewart will succeed Leonard "Sandy" Spector. CNS also appointed its first-ever Communications Director, Rhianna Tyson Kreger.
Dr. Potter also extended special thanks to several of the Center's supporters in attendance at the meeting, including representatives from Carnegie Corporation of New York, Dr. Tom Pattison, Mr. Cary Neiman, Doreen and Jim McElvany, and Jayron Martin, stepdaughter of the Center's namesake.
"CNS represents the best of responsive thinking and responsive action," said Middlebury College President Laurie Patton in her keynote remarks at the opening of the meeting. She affirmed that the Center adroitly reflects Middlebury's three core aims: a connected community to further Middlebury's goals; embracing key issues of the day; and embodying a sense of place in the world. Moreover, she remarked, CNS serves as a source of inspiration for the wider Middlebury community, pointing in particular to its project-based learning, its penchant for "asking questions well," and the unparalleled opportunities CNS provides to students, often breaking down the barriers between undergraduate and graduate studies.
East Asia Nonproliferation Program Director Dr. Jeffrey Lewis and Deputy CNS Director Jessica Varnum MAIPS '08 offered IAC members a sneak peek at the results of their ongoing research into missile proliferation in the Middle East. The presentation illustrated how CNS experts are leveraging corporate partnerships to utilize innovative technologies, data analysis—and a bit of trigonometry—to present policy makers and the public with the objective facts needed to ask the right questions and understand pertinent policy implications.
In the international NPT arena, the crucial role CNS plays in facilitating constructive dialogue between key parties was on full display. Dr. Potter, Ms. Bidgood, Dr. Vladimir Orlov of the PIR Center in Russia, and senior government officials from Egypt and the United States offered participants a first-hand glimpse into the difficulties facing the next major NPT meeting—the 2020 NPT Review Conference.
The need for much greater cooperation is perhaps most acute in the realm of US-Russia nuclear relations—the focus of the morning's "Roundtable on the Future of US-Russian Nuclear Arms Control." Traditionally a linchpin of global nonproliferation efforts, US-Russia relations are alarmingly weak at present, and beset by an atmosphere of mistrust, a dearth of dialogue, and crumbling arms-control frameworks. Every speaker—former California Governor Jerry Brown, former Senator Sam Nunn (Chairman of the Nuclear Threat Initiative), Russian Ambassador to the U.S. Dr. Anatoly Antonov, Russian journalist Dr. Elena Chernenko, and former Ambassador John Beyrle—lamented this breakdown of relations, explored its roots and effects, and warned of worsening security for all if steps to repair it are not undertaken.
Nonproliferation difficulties extend beyond the NPT, too, as illustrated by the lunchtime panel on "Looming Proliferation Challenges," chaired by Research Associate Margaret Croy MANPTS '18, with presentations by a stalwart array of CNS alumni: Mary Beth Nikitin MAIPS '98 of the Congressional Research Service, Paul Warnke MANPTS '18 (a Congressional Nuclear Security Fellow), Pablo Callis (Permanent Mission of Chile to the United Nations), Anton Khlopkov (CENESS Moscow), and Representative Jimmy Panetta (Democrat of California).
Former CNN correspondent Frank Sesno and Middlebury College graduate functioned as Master of Ceremonies for the evening at the gala event, with nearly a dozen leaders and prominent friends delivering tributes to CNS, Dr. Potter, and Mr. Spector. Against a backdrop of CNS photos throughout the decades, attendees heard vignettes from Ambassador Robert Gallucci (former President of MacArthur Foundation), Joe Cirincione (Ploughshares Fund), Thomas Countryman (Arms Control Association), Ambassador Susan Burk (former Special Representative of the President for Nuclear Nonproliferation), Patricia Nicholas (Carnegie Corporation of New York), Elisa Moskowitz MAIPS '92 (Department of Defense), Jon Wolfsthal (former CNS Deputy Director and former Special Assistant to President Obama), and Senator Sam Nunn (NTI), and Kazakh Ambassador to the United States Erzhan Kazykhanov. Dr. Vladimir Orlov (PIR Center) and Tom Blandon (Nuclear Security Archive) also gave impromptu toasts.
In 1989, the dangers posed by the existence and potential spread of nuclear, chemical, and biological weapons required a thoughtful, long-term approach to addressing them. Dr. Potter and colleagues set out to establish a center, unique in its time, laser-focused on educating and training the next generation of specialists committed at home and abroad to combat these dangers. Though the geopolitical world has monumentally shifted several times since then, and though the beneficiaries of CNS training have exponentially grown—in number, influence, and geographic scope—the mission of CNS remains as focused and imperative now as it was then.
As Director, Dr. Pilch will lead the education, training, and research initiatives of the Center's chemical and biological weapons nonproliferation portfolio, including projects and programs requiring in-depth technical assessments, policy analysis, and public outreach.
 
Sarah and Tom Pattison's support for the James Martin Center for Nonproliferation Studies, particularly its Summer Undergraduate Fellowship program, is helping fulfill the mission to help train the next generation of nonproliferation experts.
The annual meeting of James Martin Center for Nonproliferation Studies' International Advisory Council addressed relations with Russia, initiatives to foster diversity in the national security field, and the challenges of radiological weapons, among other themes.