Dr. Richard Pilch Joins CNS as Director of the Chemical and Biological Weapons Nonproliferation Program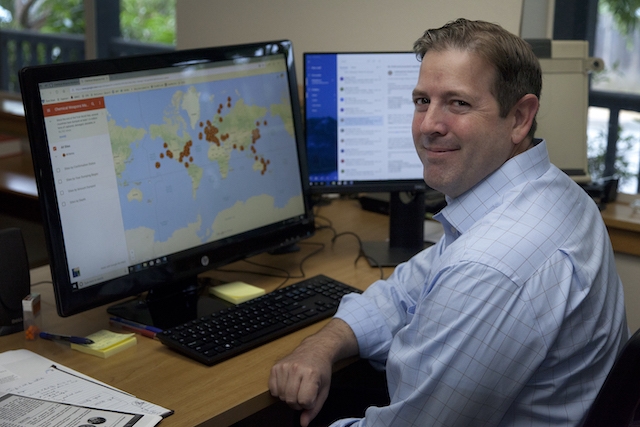 Dr. Richard Pilch has joined the Institute's James Martin Center for Nonproliferation Studies (CNS) as Director of the Chemical and Biological Weapons Nonproliferation Program.
A physician by training, Dr. Pilch has focused on nonproliferation issues since 9/11 and the "anthrax letter" attacks of 2001.  He began his nonproliferation career at CNS as a postdoctoral fellow, after which he spent nearly a decade overseas focusing on WMD threat reduction and global health security issues, including in the Russian Federation, Azerbaijan Republic, and Republic of Kazakhstan.  Most recently, Dr. Pilch led a global engagement program designed to address natural, accidental, and deliberate biological threats through scientific partnerships, safety and security, and One Health capacity-building.  He has authored over 60 publications and technical documents spanning the chemical and biological defense spectrum, served on more than 30 scientific panels and advisory boards, and co-edited a definitive technical encyclopedia, the Encyclopedia of Bioterrorism Defense (Wiley, 2005), with longtime mentor and former program Director Dr. Ray Zilinskas.
"It's an honor to return home to CNS and do my part to carry on the legacy of so many leading experts in the field, including Dr. Zilinskas," Dr. Pilch says. "I've experienced firsthand the value of the Center to all it touches, whether students, fellows, policymakers, or the public they serve, and deeply appreciate the opportunity to pass on my own experiences and lessons learned, which came as a direct result of my training here."
As Director, Dr. Pilch will lead the education, training, and research initiatives of the Center's chemical and biological weapons nonproliferation portfolio, including projects and programs requiring in-depth technical assessments, policy analysis, and public outreach.
CNS Director Bill Potter expresses his enthusiasm for Dr. Pilch's return to CNS.  He notes his high hopes for expanding the work of CNS in the CBW realm and adds that he "could think of no better person to fill Ray's very big shoes."
CNS strives to combat the spread of weapons of mass destruction (WMD) by training the next generation of nonproliferation specialists and disseminating timely information and analysis.  It is the largest nongovernmental organization in the United States devoted exclusively to research and training on nonproliferation issues.