Celebrating Diverse Cultures and Languages in Monterey
The fifth annual Language Capital of the World Cultural Festival featured an all-day food and cultural celebration in Custom House Plaza, steps away from Fisherman's Wharf. 
As in previous years, the Middlebury Institute was responsible for setting up mini-language and cultural lessons. Over the course of the day 14 one-hour lessons were offered in the several booths organized by Curriculum Specialist Lisa Donohoe Luscombe MATESOL '09. The 12 languages featured were Russian, French, Korean, Japanese, Spanish, Chinese, Arabic, and German. The teachers came from the Institute and beyond, including from the Defense Language Institute and the community at large.
View the gallery in a new window.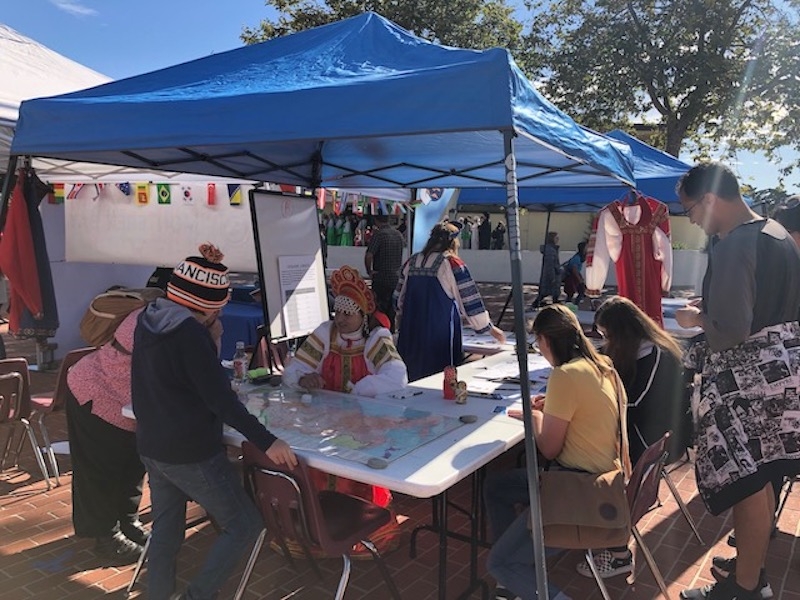 Language Capital of the World Cultural Festival
In addition, the community was treated to all-day music and dance performances, ethnic craft sessions, a variety of cultural activities, food offerings, and information booths. It was a warm and sunny day on the Peninsula and many people embraced the opportunity to celebrate the unique fabric of the community they live in. 
The festival was created to highlight the rich diversity and heritage in the region along with the world renowned language educational institutions including the Middlebury Institute, and the Defense Language Institute as well as multiple language service providers. It is organized by a group of volunteers in collaboration with community sponsors such as the City of Monterey and the Middlebury Institute.