Center for Social Impact Learning Launches New Research Fellowship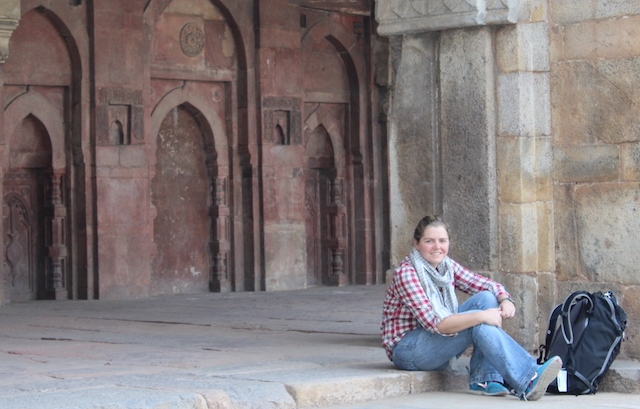 The Middlebury Institute's Center for Social Impact Learning has launched a new research fellowship combining placement with a partner organization in an emerging market with an independent research project. The inaugural program is in Mongolia where recent graduate Molly McKeon MAIEP '15 will work with the Executive Excellence International Business Center in the capitol of Ulaanbaatar on small and medium business development. She will also study in depth the link between micro-finance and entrepreneurship in larger Mongolia.
McKeon, who was born in France, honed her French language skills in Quebec while earning her undergraduate degree in development economics and international development at McGill University. "Learning French gave me the confidence to try learning languages like Chinese or Mongolian," she says. Before coming to the Monterey, McKeon was a China Friendship Volunteer for the Peace Corps in Wulong, China for two years.
After her first semester at the Institute, McKeon was invited to participate in a Young Leaders Program with the Northeast Asia Economic Forum in South Korea. The program brought together students and young professionals from six Northeast Asian countries, including Mongolia, to build expertise in regional issues and promote relationship building. As part of the research training program, participants were asked to prepare a brief on the country we were the least familiar with. "I chose Mongolia and what I learned completely fascinated me."
"In short," McKeon explains, "Mongolia is a large landlocked country sandwiched between competing world powers Russia and China. Though the population is small and still largely nomadic outside the super urban capitol, vast natural resource wealth is transforming the country quickly. Decisions made within these next five to 10 years will define the country's economic and social trajectories for decades to come. That is what makes Mongolia the kind of frontier market I want to work in.
Inspired by what she learned, McKeon focused a number of her research projects in International Environmental Policy on Mongolia. Working there seemed like a longshot, but interesting research topics kept coming her way. Seeking opportunities to combine her interest in the political economics and natural resource challenges of Mongolia with a field research project, McKeon says she realized learning Mongolian would be critical. She won a Title VIII Fellowship to study the language at Indiana University. "After studying Chinese at MIIS it is nice to have an alphabet again, even if it is Cyrillic. Between French, Chinese and Mongolian I managed to select three languages that have almost nothing in common, but you do start to learn language acquisition strategies, so in some ways it does get easier."
In the summer of 2015, McKeon participated in the Center for Social Impact Learning's Frontier Market Scouts program and as a student she was also instrumental in the launch and day-to-day running of the META Lab. After graduating in December 2015, she and fellow graduate Amanda Bensel MAIEP '15, along with professor Philip Murphy, created the first Team Nepal Field Research Methods course." Working with an international client on a very timely, applicable field research project was such a rewarding journey. I loved the critical thinking and daily problem solving that went into that research."
The new CSIL Research Fellowship is a multi-part project that will combine a part-time position with a Mongolian start-up and a research project on the Mongolian business environment. Associate Director of Strategic Initiatives Annie Makela says she cannot think of a better person than McKeon to pioneer this new program. "The fellowship will allow her to build off the skills she acquired in the Frontier Market Scouts program while leveraging her background in research methods, and pursuing her fourth language. We know Molly will make a great addition to the CSIL team and we can't wait to see what she will accomplish!"