Class Pitch Becomes Real Life Project Connecting Classrooms in the US and Panama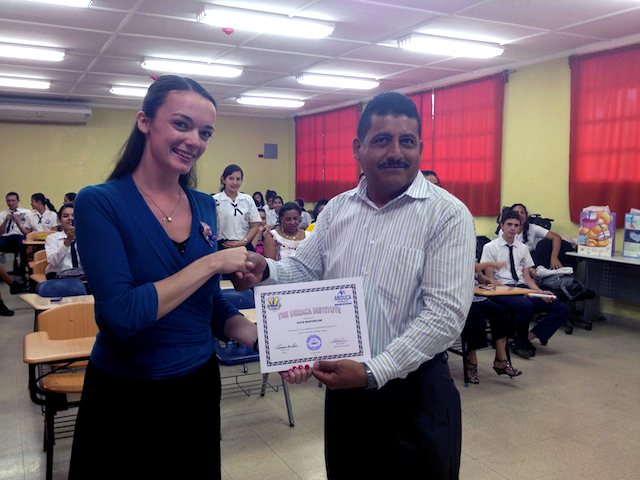 For Middlebury Institute student Katie Barthelow MAIEM/MPA '16, Professor Evan Bloom's course "Starting Your Own Social Change Organization" turned out to be aptly named. When students were tasked with presenting a pitch for a new organization, Katie, who had taught high school in Panama as part of World Teach in 2012, immediately thought of a project that could benefit her former students.
As it happens, newly-elected President Juan Carlos Varela Rodriguez of Panama launched his ambitious new education program, Panama Bilingual, in Santiago de Varaguas, the city where Katie had taught. The purpose of the program is to strengthen English language education across all levels of public education in Panama. As part of the program, the Panamanian government will send two thousand teachers for special training in English speaking countries like the United States every year. "This project is incredibly exciting," says Katie, whose thoughts in class that day immediately went to ways to help improve and strengthen this effort.
"I thought to myself, what happens when the teachers go back home?" Her class pitch was to create an organization that would help Panamanian teachers maintain a connection with schools in the United States after they return from their training and at the same time serve as a cultural and language exchange program for students in both countries. Professor Bloom said she had a clearly defined project and obtainable goals and encouraged her to make it happen. "He and the whole class really helped me to figure this out and come up with a plan for a pilot program."
Katie kept working on her idea, using her connections from her teaching days in Panama and making new ones with the Peace Corps and U.S. Embassy. She traveled to Panama last summer to meet with school administrators, educators, and representatives from the Ministry of Education. She launched her pilot Stories Shared with two high school teachers in the United States and two in Panama. The project is off to a great start with students recording short videos in their native languages, but using their language of study for a question session at the end. The responding class then does the same thing. "It was fascinating to me to see a student in Panama ask the U.S. students if they were stressing out about college applications and then getting to see the response and rapport on the other side."
Apart from offering support to teachers, Katie's goal with Stories Shared is to increase the enthusiasm for language and cultural study among students. From her own experience she has seen that people are more interested in learning another language if they have a personal connection to the other culture. Once the pilot program is completed in December, Katie will take time to evaluate it, assessing what went well and what could be improved. With financial support from the Institute´s Immersive Learning Fund, Katie will return to Panama during spring break in March to launch the program in more classrooms.