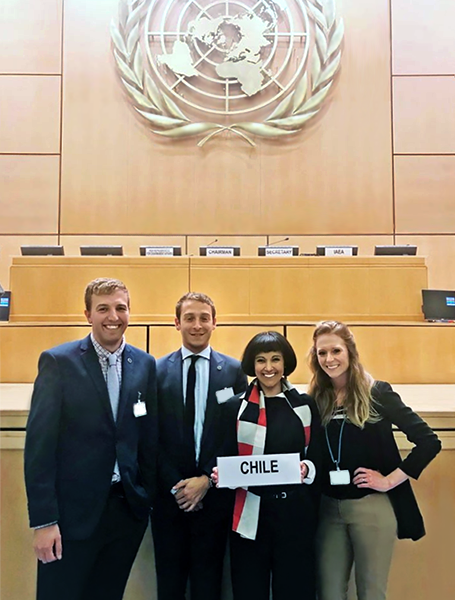 On April 23–May 4, 2018, the Preparatory Committee of states parties to the Treaty on the Non-Proliferation of Nuclear Weapons (NPT) met in Geneva. Leaders, researchers, and students from the James Martin Center for Nonproliferation Studies (CNS) and the Middlebury Institute participated in various ways.
CNS Activities at the 2018 NPT Preparatory Committee Meeting in Geneva (April 23-May 4, 2018)
CNS Director William Potter served as Advisor to the delegation of Chile at the 2018 NPT PrepCom. Also serving as members of the Chilean delegation were CNS Senior Research Associate Sarah Bidgood MANPTS '16 and NPTS students Joseph Rogers MANPTS '18 and Paul Warnke MANPTS '18. NPTS students Maggie Rowland MANPTS '19 and Daria Selezneva MANPTS '19 participated at the PrepCom as members of the Secretariat.
Dr. Potter was one of three panelists at the PrepCom side event on "The Report of the Group of Eminent Persons for Nuclear Disarmament." The Panel featured Japanese Foreign Minister Taro Kono and PrepCom Chair Adam Bugajski. (April 24, 2018)
Ms. Sarah Bidgood was a featured participant in the Side Event: "Women in the NPT" (co-organized by Australia, Canada, Sweden, and Netherlands), April 25, 2018
Dr. William Potter moderated the Side Event "Bridging the Gap: The CTBT" featuring CTBTO Executive Secretary Lassina Zerbo, VCDNP Senior Fellow Ms. Angela Kane, as well as presentations by Ms. Sarah Bidgood and NPTS graduate student Tiara Shaya MANPTS '18 (April 25, 2018).
Ms. Sarah Bidgood was a featured speaker at a side event on "The Nexus between the Nuclear Weapons Ban Treaty and Article VI of the NPT" (April 25, 2018).
Dr. Potter co-chaired a Track 2.5 Workshop on "US-Russian Dialogue on the NPT Review Process: Ideas from the Next Generation" (co-organized by Centre Russe D'etudes Politiques and CNS) on April 28, 2018. Participants at the workshop included Ms. Sarah Bidgood and NPTS students Adlan Margoev MANPTS '19, Summer Gary MANPTS '19, Paul Warnke, Joseph Rodgers, Noah Mayhew MANPTS/MGIMO '18, Daria Selezneva, and Maggie Rowland.
Ms. Andrea Berger, CNS Senior Research Associate, gave a presentation at a side event on "NPT addressing North Korea's nuclear challenge" (co-organized by France, Germany, the Republic of Korea, and the United Kingdom) on April 30, 2018.Andrea Berger-Presenter
Four NPTS students organized and spoke at a side event on "NWFZs and the CTBT: A Blueprint for Stability on the Korean Peninsula" (organized by CNS and the CTBTO Youth Group) on May 3, 2018. They were Grace Liu MANPTS '18, Maggie Rowland, Paul Warnke, and Joseph Rodgers.
Dr. Potter moderated a side event on "Cooperation between Nuclear Weapon-Free-Zones: History, Challenges, and Recommendations" (organized by Kazakhstan) on May 3, 2018.
In the lead-up to the PrepCom, CNS published an updated "NPT Briefing Book 2018," a reference guide containing a wide selection of documents related to the NPT review process, produced in partnership with the Centre for Science and Security Studies at King's College London.
Nonproliferation and Terrorism Studies student Michala Braun was one of only two graduate students invited to present their research as part of a panel discussion at the annual Strategic Multilayer Assessment (SMA) conference held on April 3-4, 2018 in Washington, D.C.
A former president and two ambassadors participated in CNS Director William Potter's arms control negotiation course at the Monterey Institute this semester, adding tremendous realism to the simulation, as well as valuable insight about negotiating techniques.
The Monterey Institute's James Martin Center for Nonproliferation Studies has launched an interactive website featuring up-to-the-minute analysis of the NPT Review Conference Preparatory Committee meeting in Vienna.