A Commencement to Remember: Inspirational, Musical, International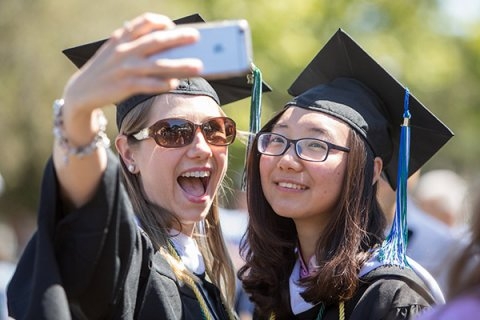 In a joyous ceremony marked by speeches, songs and surprises, the Middlebury Institute of International Studies celebrated the achievements of 287 students from 31 countries at Spring Commencement on Saturday. Family, friends, faculty, staff and graduates gathered under sunny skies on historic Colton Hall lawn for a ceremony filled with inspirational moments.
Leading environmental writer and activist Bill McKibben spoke of the important work that Institute graduates will do, while underscoring the importance of everyday civic engagement outside of normal working hours. In sharing stories of working with Middlebury students to found Step it Up 2007, which organized climate change demonstrations across the United States, and the subsequent international climate campaign 350.org, McKibben encouraged Institute graduates to stand up for what they believe is right. "We don't all need to be full time activists," he told the graduates, noting that he isn't one himself, "but we all need to be active" as citizens in a democratic society.
Introducing McKibben, Middlebury President Laurie L. Patton noted that "Part of what makes the Institute such a powerful place to learn is that here, idealism is fostered rather than quelled. And fostering our idealism is critical as we are transformed by our education into change agents." She called McKibben "a magnificent writer, but more importantly, he is a magnificent human," possessed with "an enormous strength of conviction combined with a gentleness of spirit."
After greeting his classmates in nine languages, student speaker (and 2016-17 Student Council president) Stephen Doolittle reminded them that "We came to MIIS because we decided to dedicate our lives to serving others. We will live our lives in support of this idea." A few minutes into his inspirational remarks, Doolittle leaped off the stage into the aisle and, joined by a surprise guest choir, serenaded his fellow graduates with a medley of "Flashlight" and "Stand By You."
While welcoming the audience, Dean of the Institute Jeffrey Dayton-Johnson acknowledged three longtime faculty members who are retiring this year, Peter Shaw and Jean Turner of the Teaching English to Speakers of Other Languages program, and Fredric Kropp of the Business Administration program. Kropp served as Grand Marshal in the ceremony and also conferred a Master's degree in Nonproliferation and Terrorism Studies to his son-in-law Evans Saintumé Lanot MANPTS '17.
A different kind of excitement occurred at the end of the conferring of degrees. As Gerri Falk MATESOL '17 accepted her degree, she was met on the stage by her boyfriend Jim Swift, who knelt down and proposed to her. "Yes!" was the response, to rousing applause and a few tears as well.
The traditional flag procession was once again led by Professor Michael Gillen playing the bagpipes, trailed by 31 flag-bearers representing the homeland of each graduate, many of whose loved ones had traveled long distances to honor their achievements. It was, as always, a celebration to remember.
[For many more photos, visit the Institute on Facebook.]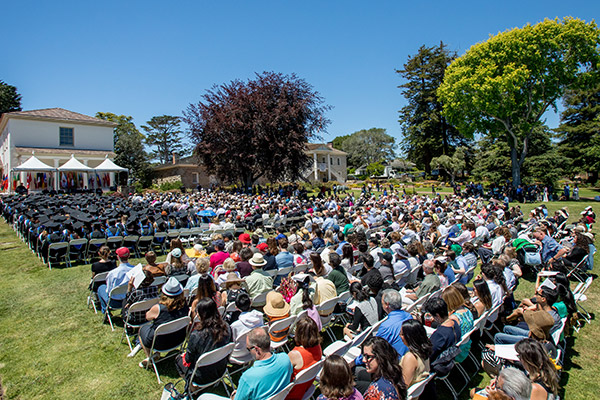 Middlebury President Laurie Patton with Commencement Speaker Bill McKibben
Student Speaker Stephen Doolittle