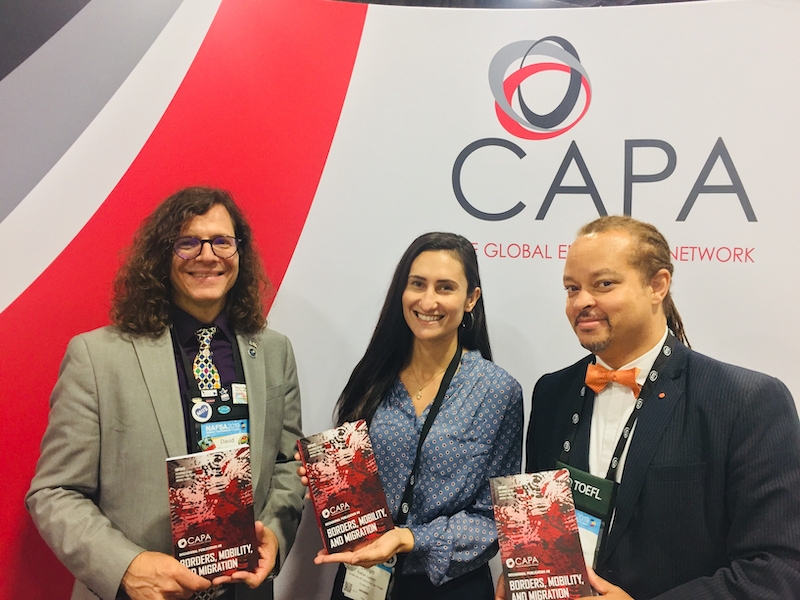 "One of the biggest values from my Masters degree was the opportunity to transition from learning from and looking up to renowned leaders in our field (our faculty), to working side by side as colleagues," shares International Education Management (IEM) alumna Evelyn Lueker MAIEM '18 whose collaboration with Professor David Wick has resulted in recently published research.
Wick and Lueker recently co-published the Frontiers journal article "Assets-Based Learning Abroad: First-Generation Latinx College Students Leveraging and Increasing Community Cultural Wealth in Costa Rica" along with Tasha Y. Willis, Maria Hernandez, and Jacqueline Rivera of California State University, Los Angeles.
The study looks at how to best support Latinx students studying abroad through program design and how to find the best relevant pedagogy to increase social justice awareness. "Collaborating in research and writing with IEM alumni is tremendously rewarding and produces higher quality writing," shares Wick. "Working with alumna Evelyn Lueker gave me insight into the work that she was doing at her practicum site and in her first full-time jobs in the field. The perspective she added allowed us to keep the chapter and research article that we published connected to research, existing scholarship, and current practice in ways that strengthened the work." Lueker and Wick also recently co-authored "The Future of Inequality in Mobility" chapter for CAPA: The Global Network's Occasional Publication #8: Borders, Mobility, and Migration with Aaron Bruce from the ArtCenter College of Design.
Students create strong, long-lasting connections with the faculty at the Middlebury Institute. "The diversity and inclusion work that David Wick does, through examining international education as an empowerment tool for underserved student populations, is of extreme importance to me personally, and to the future of our increasingly global higher education space, and to the future of our increasingly global higher education space," Lueker says. "This work is why I am in the field. My MIIS education enabled me to go from seeking out pioneers in the field to begin the process of becoming one. I am extremely proud and humbled to have had this opportunity. I am confident that there are many more to come."