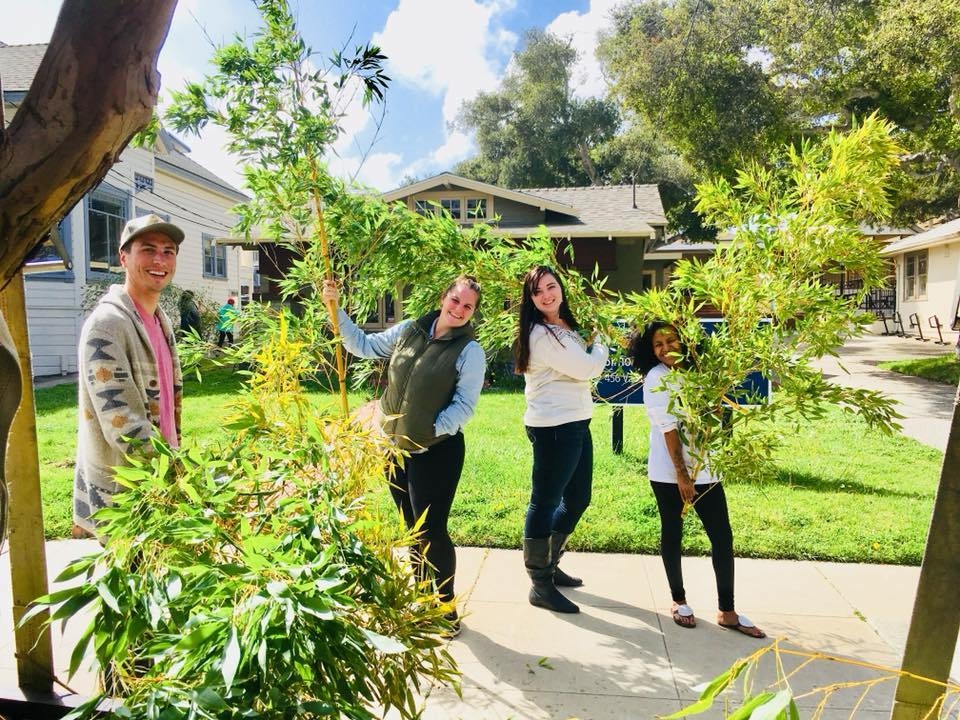 Anyone visiting the Middlebury Institute's downtown Monterey campus recently has probably noticed a structure being built on the lawn in front of the Simoneau House. This interactive, large-scale installation is part of the ongoing Fund for Innovation Spring Arts series and is sponsored by the Johnson Visual Arts Residency Program Fund at Middlebury College and co-hosted by the Committee on Art in Public Places at the Middlebury Institute. The artist building the work – a "Nest" -- is Jayson Fann, a sculptor, global musician, producer, and educator. The emphasis of his work is integrating visual and performing arts with social activism.
As an educator, Jayson's work and thoughts on activism are centered on young people. He works to provide students with opportunities to build cross-cultural literacy, exposing them to different ideas, cultures, and forms of expression. He works with students in schools throughout the Monterey area, from Seaside to Salinas, creating an environment where kids fall in love with the learning process.
One of his previous projects, Hands for Peace, brought together youth in the Salinas community who are affected by gang violence, including those associated with opposing gangs. The project brought different members of the community together to "create something beautiful," a large piece of art with 20,000 handprints, which created a backdrop for music and performing arts groups.
When the NEST project is completed, it will travel to area schools as a site for performances and educational workshops, with particular emphasis on districts that have less access to the arts. Jayson believes that exposing kids to diverse modes of communication lays a foundation for a lifelong journey of learning about and respecting other cultures.
During the residency, Jayson will provide opportunities for community involvement, including learning about his building and design techniques. He will offer a slide-lecture open to the public on Thursday, April 12 at 7 p.m. in Room 10# of the McGowan Building (411 Pacific Street), featuring a conversation with Dr. Beryl Levinger of the Institute; Pieter Broucke, director of the Arts at Middlebury; and Airon Whitt '19, a member of the arts team for the Fund for Innovation spring series. Students and the community are encouraged to engage in dialogue with Jayson and contribute to the building process.
The interactive NEST will be the site for additional events, including bringing your free Fair Trade Coffee from Samson courtyard to the NEST on Monday, April 16 from 11-2 as part of Earth Week (carry your own cup) and an end-of-semester Arts Fest on May 6.
The Intercultural Arts and Leadership Series at the Middlebury Institute began with a week dedicated to a "Focus on Africa" and continued with a dance residency.
Renowned Ethio-jazz artist Meklit Hadero will headline the first event in the Institute's new Intercultural Arts and Leadership Series Feb. 26.
A two-day celebration of Middlebury's Fund for Innovation showcased initiatives ranging from tandem language learning to a lecture series on embodied intelligence.