DPMI Students: Acquiring Skills and Developing Networks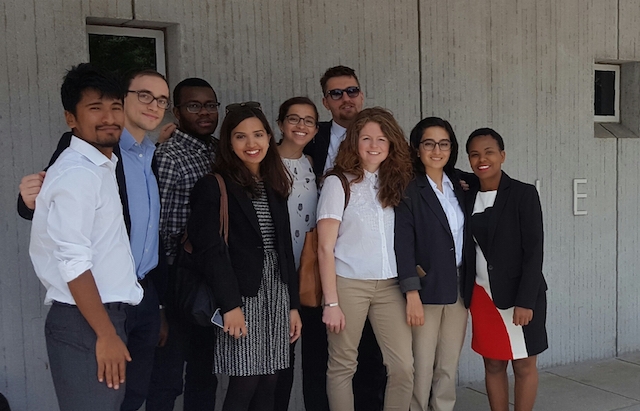 Fifty students and mid-career professionals from all over the world gathered in Monterey and Washington, D.C. to attend Design, Partnering, Management and Innovation (DPMI), an intensive program in international development and social change. The two-week Monterey-based training concluded on June 3rd, and the three-week Washington training will finish on June 24th.
Participants include 26 current or incoming Institute students, two Middlebury College students, eight fully-funded United World College fellows, and 14 working professionals and students from other universities. Collectively, the participants represent 19 different countries and 13 native languages. Attendees traveled from all across the United States, as well as from Ethiopia, Nepal, Pakistan, Trinidad and Tobago, Uganda, and the United Kingdom for the programs.
"Each student brought a wealth of knowledge from their own cultural backgrounds," says Monterey participant Lauren Gilmore MPA '17. "It really became possible to understand the program's focus on social change when viewing it through the lens of this diversity."
The trainings are aimed at preparing skilled practitioners in the field of international development, and include modules such as designing and managing development projects, facilitating participatory development, as well as social entrepreneurship and strategic partnering.
The curriculum gives students a hands-on approach to learning these skills. Rather than just lecturing, instructors Beryl Levinger, Evan Bloom, and Sharon Bean design activities that allow participants to immediately test whatever skill was just taught. From day one, students begin working in teams to apply the training to real world problems.
Despite the intensive nature of DPMI, participants are also able to engage in some extracurricular activities. In Monterey, students attended a beach bonfire and happy hour mixers after class. A DPMI networking event held during the first week of the program connected the current students with many past participants.
In its first week, participants in the Washington, D.C. program were invited to a special event with alumni of the program. Additionally, participants made use of the many resources that the area has to offer. Graduate assistants led site visits to the World Bank, ACDI/VOCA, and Search for Common Ground. Many DPMIers sat in on a lecture about gender and development given at the Center for Global Development as well.
"It has been an amazing opportunity to be in the heart of the international development arena," says D.C. participant Julius Moye. "Being able to go on these site visits has been an enthralling and inspiring experience."
Because both trainings contained many working practitioners, participants have had real opportunities to expand their professional networks. Upon completion of the program, they will join the more than 1,200 DPMI alumni, many of whom continue to work in the international development field. "The inclusion of practitioners was great," says Gilmore. "It was enlightening to hear their perspectives on the issues we discussed, since so many of them have faced similar problems in the course of their work experience."
The next DPMI trainings will be held in January of 2017, in both Monterey and Rwanda. Aspiring international development professionals are encouraged to apply.