Fall Forum Highlights Interpretation Skills in Discussion of "Home"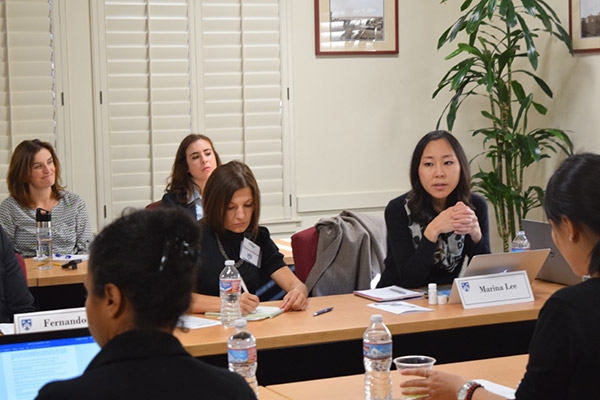 The Fall Forum—an annual tradition at the Middlebury Institute of International Studies—highlights the skills of aspiring interpreters and gives them the opportunity to practice in a conference setting. Each year the Forum features discussions around a selected theme and panels of speakers, and each session is interpreted into multiple languages by student interpreters.
This year, the topic chosen by students was "Home" and session titles included "Should we take in migrants? Was the Statue of Liberty right?" and "Should we give homes to the homeless?" Speakers expressed their views in their native languages as second-year Conference Interpretation and Translation and Interpretation students interpreted. Each session also had moderators who spoke in their native languages and were interpreted by a partner.
As always, the theme was chosen with the purpose in mind of facilitating a cross-cultural and cross-language discussion of topics of interest to the campus community. For each session there were three groups of five speakers and five interpreters, including the moderator. Many of the speakers were students from other degree programs who had an interesting point of view to share in Chinese, French, Russian, German, Japanese, Korean or Spanish. The audience included other students, faculty and staff.
The Fall Forum not only provides interpreting students with great training, but also offers the community a great opportunity to see interpreters at work. The organizing team took over the Middlebury Institute Instagram account on Friday and shared images throughout the day.