First Phase of Plans for Ambitious Campus Improvements Completed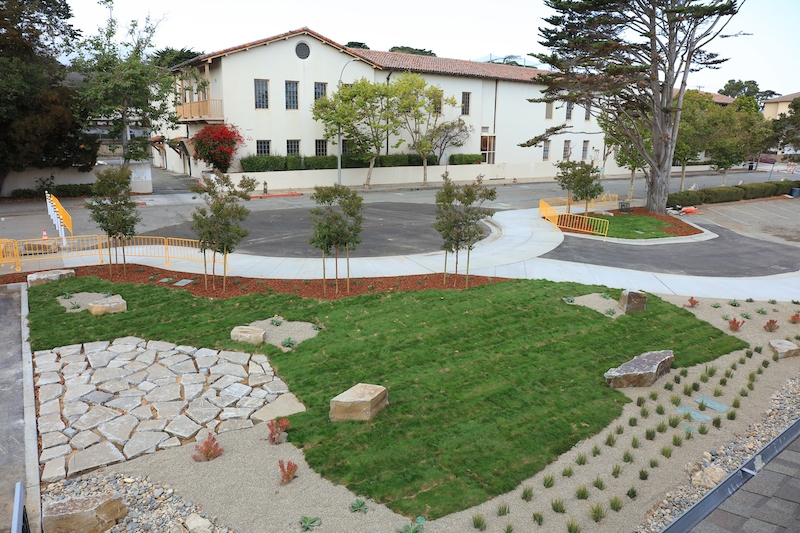 The partial closing of Pierce Street, and a new sustainable landscaped area in front of the Casa Fuente building mark the completion of the first stage of the Middlebury Institute's plans to create a more pedestrian-friendly central campus space.
There is now a cul-de-sac on Pierce Street, and the street is closed from traffic from Jefferson Street. The new landscaped area adds a natural environment to the heart of campus, replacing what previously was in essence a 3,200 square foot parking lot.
The design engaged with the specific site context and microclimate as it achieved sustainability goals related to limiting water use, effectively managing stormwater, enhancing soil health, decreasing maintenance inputs by choosing regionally-adapted plants, increasing shade and habitat through vegetation, and ensuring longevity through correct installation and quality materials.
"Each boulder was hand selected for the site to provide visual appeal and functionality, and almost all can function as a seat," shares Director of Facilities Andrew Hernandez. "The no-mow grass offers a low maintenance and drought tolerant alternative and creates a meadow of lush landscaping." He adds that the small patio seating area was created with salvaged sidewalk from the initial demolition on Pierce Street. In addition, during the project construction, the City of Monterey Path of History was slightly adjusted so people following it will now use the new sidewalk and walk through the landscaped area.
"The renovation of Pierce Street signals that even though our campus is currently closed due to the pandemic, the Middlebury Institute is here to stay in Monterey," says VP for Academic Affairs and Dean of the Institute Jeffrey Dayton-Johnson. "We look forward to our community returning to campus, and know they will appreciate the attractive and functional outdoor space that undoubtedly will help foster further collaboration and community." 
Dayton-Johnson adds that Middlebury is making investments in the campus plant, and is planning future upgrades with the participation of generous donors. The next phase of the Master Plan includes removing some or all of the remaining asphalt on the closed part of Pierce Street, and adding more landscaping.