Five Alumni Serving as State Department English Language Fellows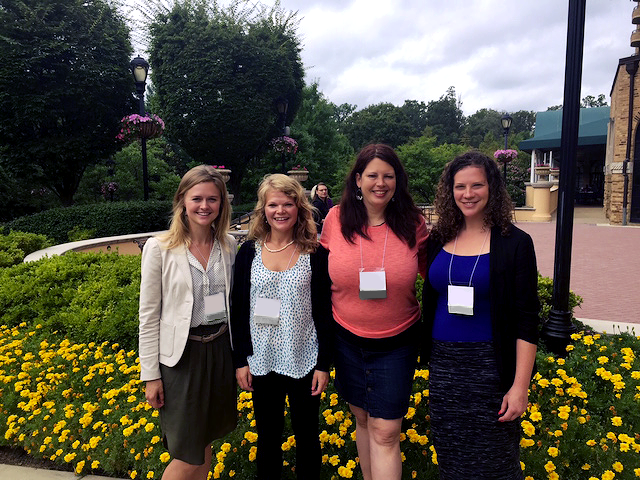 Five alumni are currently representing the Middlebury Institute of International Studies in the U.S. State Department English Language Fellows program (ELF). The ELF program promotes English language learning around the world and fosters mutual understanding between the people of the United States and those of other countries. It places talented, highly qualified U.S. educators with graduate degrees with a focus on Teaching Foreign Language (TFL)/Teaching English to Speakers of Other Languages (TESOL) or Applied Linguistics in all regions of the world.
For recent graduates, "being selected for this program is one of the most prestigious positions you can achieve," says Professor Kathi Bailey. Here is an overview of the five students' placements:
Alicia Brill MATESOL '13 is serving in West Sumatra, Indonesia, teaching English for engineers as well as in the English Department at Universitas Andalas. During the first week of her fellowship, Alicia led a workshop on using Activate games in the classroom for the 62nd annual Teaching English as a Foreign Language in Indonesia (TEFLIN) conference in Bali. Additional projects include teacher training in Professional Development for Engineers, program planning and outreach in the American Corner, leading an English Club for Engineers, curriculum and materials design, and community outreach.
Tylie Cramer MAIEM/MATESOL '15 is serving in Córdoba, Argentina. After graduating in May of last year she worked at a bilingual school in Montevideo, Uruguay, practicing her classroom management and differentiation skills with thirty "spirited" 5th grade students. In the historic university town in Argentina, she works with the English teachers and students at IICANA, a US-Argentina Binational Center. Her duties include giving teacher training workshops, aligning language standards to language assessment, and teacher observations. She is excited about all of her duties, but is especially looking forward to running a conversation club highlighting US holidays, traditions and current events. There will not be any shortage of conversation topics this year!
Patrick Gaebler MATESOL '12 is in his second year as an ELF at the Universidad Tecnológica El Retoño (UTR) in Aguascalientes, Mexico. During his first year, he designed and implemented a project called Beyond Limits Career Fair, during which freshmen students researched and presented on topics including the importance of English in connection with future potential careers. Patrick also taught an advanced English course focused on academic rather than general English, and planned an English Language Teachers professional development event with the English language instructors at UTR. He has also spent considerable time researching and designing a "Self-Access Center" for UTR.
Lisa Weiss MATESOL '15 has returned to Ukraine, where she served in the Peace Corps previously. It was during her initial service there that she discovered her love for English teaching and decided to make it her career. She teaches practical English at Poltava National Pedagogical University for students who are studying to be middle and high school teachers. She works with the Window on America Center at the public library to present film series and teacher trainings. She will be working with other universities in the city — including some students relocated from war zones in the eastern part of the country — to support English teaching and learning. She also plans to assist with the ACCESS Microscholarship program which provides English language classes to low-income students ages 13-20.
Maggie Steingraeber MATESOL '12 is based in Lima, Peru through the Fulbright
Commission. Her main responsibilities include hosting and coordinating a regional webinar series, and working with teachers and academic institutions throughout the country to help Peru reach its bilingual initiative goal by the year 2021. She works with high-performing high schools and teacher training colleges in key regions to develop curriculum and train teachers.