Four Alumnae Named English Language Fellows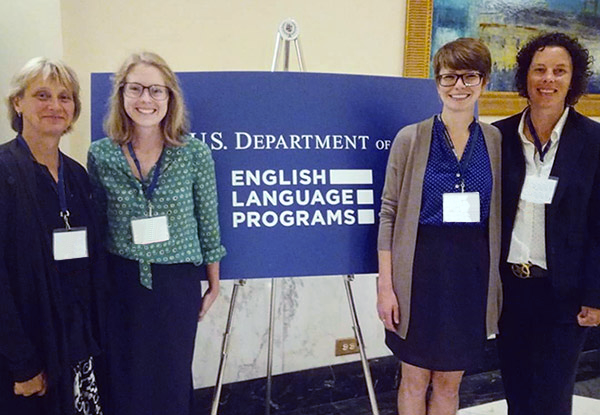 Four graduates of the Middlebury Institute's Teaching English to Speakers of Other Languages (TESOL) degree program have been chosen to serve as English Language Fellows (ELF) for the U.S. State Department for the 2017-2018 school year. The ELF program promotes English language learning around the world and fosters mutual understanding between the people of the United States and those of other countries. It places talented, highly qualified U.S. educators with graduate degrees in all regions of the world.
The four alumnae representing the Institute in the ELF program this year are: Assistant Professor Kelley Calvert MATESOL PCMI '05 (also director of the Institute's Graduate Writing Center), who will be teaching English in Thailand; Reilly Knop MATESOL '16, who will take a teaching position in Niger; Emily Durst MATESOL '15 in South Africa; and Susan Spano MATESOL PCMI '17 in Rwanda. Calvert, Knop, and Spano are all Returned Peace Corps Volunteers.
"I'd never have known about or applied to the ELF program without learning about it from my TESOL professors and fellow students," says Spano. When Spano served in the Peace Corps in Armenia she met English Language Fellow and Institute alumna Ellie Wolf MATESOL '13 and was inspired by her work. "And, of course, teaching English in Rwanda is precisely the kind of work the MIIS degree prepared and qualified me for."