Four Students Interpret for the United Nations in Chile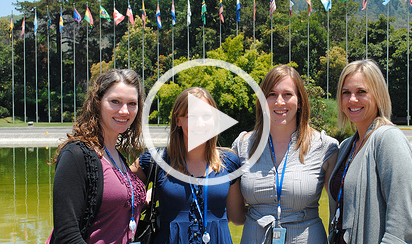 Four Spanish Translation and Interpretation students are participating this January in the first-ever MIIS International Translation and Conference Interpretation Practicum, at the Economic Commission for Latin America and the Caribbean (ECLAC) in Santiago, Chile. In 2009, Professor Cas Ann Shulman-Mora recognized an opportunity presented by the Memorandum of Understanding signed between the Monterey Institute and the United Nations. She started working to create practical training opportunities for students. Her efforts have already started to pay off. The plan is to use the practicum in Chile as a model for other international conference venues and language departments.
The four students, Amanda Townsend, Arielle Weisman, Amber Slaton and Lauren Scott, are second year translation and interpretation students. They divide their time between interning at the English Section of the Documents and Publications Division and interpreting in mute booths during two conferences, held in Santiago. "I am really enjoying this," said Arielle Weisman, adding that real-life training is invaluable.
Professor Shulman-Mora says that only so much can be taught in the classroom, and practical on-site training with people of different cultures and backgrounds is incredibly beneficial to the students. Spending a month in an unfamiliar environment deepens the experience. As an added bonus, the students prepared for and took the freelance examination for ECLAC, moving them toward the career of their dreams.