Holiday Pop-Up Market Features Mission-Driven Vendors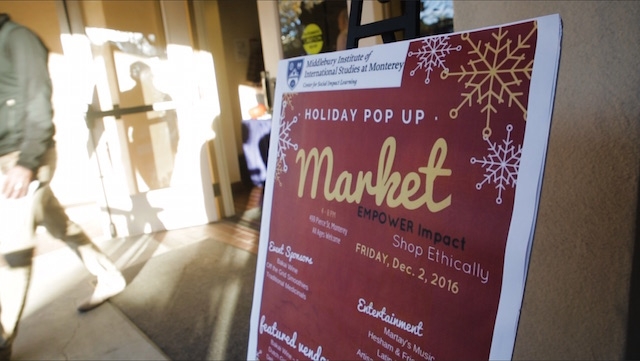 The Middlebury Institute's Center for Social Impact Learning (CSIL) organized a Holiday Pop-Up Market on campus earlier this month to bring together mission-driven vendors and consumers from our community. The event featured 21 entrepreneurs who are paving the way for locally and sustainably sourced, fair and ethical supply chains that support local economies and community resilience. "We really believe in these sort of local events," says Annie Makela, CSIL associate director of strategic initiatives. She adds that the students who work at the Center came up with the idea and were able to run with it with their support.
"Nowadays the buzz word about pop-up is really about fueling the local economy, that there are these small enterprises that are making this massive impact on people, on the planet, and hopefully on their profits," says Ashley Gauer MPA '18. Gauer was one of the lead organizers of this event. The full list of vendors can be found here.
People really care about this," says Gauer, "people really believe in the fundamental idea that we as consumers are powerful and the small actions that we take collectively are really changing the way big companies are operating." For more on this event, see the video below.