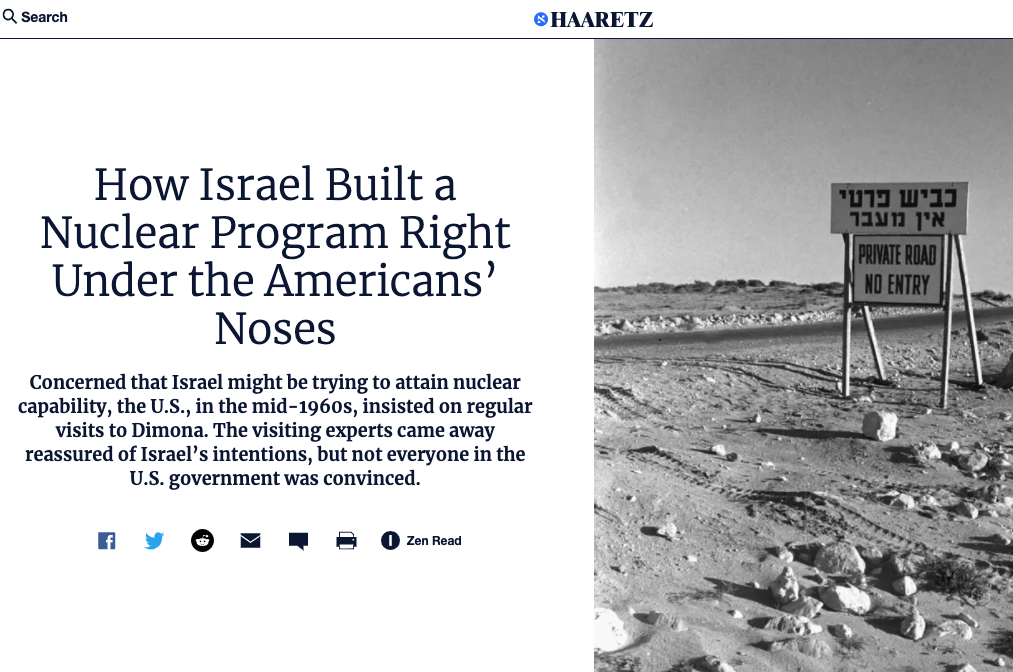 Middlebury Institute Professor Avner Cohen and National Security Archive Senior Analyst Bill Burr recount how, despite setting up a system of visits in the 1960's, the United States failed to prevent Israel from developing a nuclear weapon in a recent article in Haaretz.
The article explores a hardly known chapter in American-Israeli relations in the mid 1960's when the United States was concerned about the Israeli nuclear program. As Cohen explains, "That chapter involves the creation of visits system at Dimona that President Kennedy pressed for, and ultimately achieved, believing that such a system – he hoped that visits would be really inspections — would check and prevent Israel to go nuclear. Well, it did not. The United States had nine visits at Dimona from 1961 to 1969, had some suspicions, but never found direct evidence that Israel was engaged in weapons related activities." As as the article headline notes, "Israel Built a Nuclear Program Right Under the Americans' Noses." Based on Cohen and Barr's recent scholarly publication at the National Security Archive website of a collection of declassified documents, they weave together a story of those American visits at Dimona in the mid-1960s, their findings, and provide historical retrospect analysis why that effort failed.   
Nonproliferation Studies professor Avner Cohen comments on Israel, nuclear proliferation, and the future of the Middle East.
Middlebury Institute Professor Avner Cohen sheds new light on the nuclear dimension of the six-day 1967 war that transformed the Middle East fifty years ago.