"I Love This Place": Professor Fredric Kropp Reflects on 17 Years at MIIS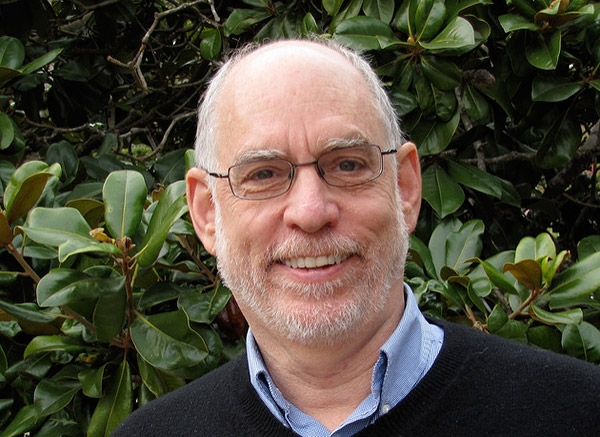 After 17-plus years, Professor Fredric Kropp will depart from the Middlebury Institute's MBA faculty at the end of this semester. A staff member with the Institute's Graduate School of International Policy and Management recently interviewed Kropp and encouraged him to reflect on his time at the Institute; the following are highlights from the full interview, which is linked below.
What has been the most rewarding aspect of your teaching here?
The main thing that I've done since I've been here besides teaching is research. I was president of the faculty senate. I was co-chair of the faculty evaluation committee, and I was chair of the Fisher International MBA program. Typically, I've taught about five courses a year, and I really enjoy the interaction with students. Again, it goes back to the worldview and the sophistication of the students.
When I first came here, I was doing research on marketing, cross cultural impacts, advertising, and over time I've gone from that to social marketing to entrepreneurship to social entrepreneurship… I looked today and since 2011, my papers have been cited over a thousand times. So, that's really been satisfying to know that I made a contribution to the academic literature.
How have you incorporated your extensive professional experience into the classroom? Any specific ways or methods?
Well, pretty much everything I do informs my teaching. Research certainly informs my teaching, but I'm a strong believer in immersive learning, and almost all of my courses are project-based. So, typically I'll run projects with about four or five students each; if there are 20 students in the class, it will be about four or five projects. They'll be with existing firms or social ventures or social entrepreneurs in the community both near and far.
If it's my social entrepreneur class, I work with social entrepreneurs and the students act almost as a consulting team to the entrepreneur. They get immersed in their lives, they understand what it is to be an entrepreneur and they help them solve problems. If it's a marketing class, then it will have marketing projects. Last semester, we did [one] for a local entrepreneur in Salinas who, a number of years ago, was [Monterey County's] Entrepreneur of the Year.
How have you seen social entrepreneurship develop throughout your career?
It's really an interesting thing because it's been going on for decades. I think they look back and see Clara Barton, one of the founders of the Red Cross, as a social entrepreneur. But, as a discipline, it didn't really start getting named until about 20 years ago and it's only over the last ten years that people start to know it and understand it [well]. The field has really taken off, and it uses business approaches, in particular entrepreneurial approaches, to solve social problems.
How has the Institute evolved on the whole since you began your tenure?
One of the accomplishments that I'm proud of while being the MBA chair was to develop and implement the joint degrees. What we really wanted to do was develop the synergies between the programs. So, we developed an integrated MBA/IPD or IEP, and now there's a map for students to get through in five semesters.
MIIS is really focused on solving social problems, and it's something that we've done and it's something that attracted me here. Now, I think it may be more purposeful as part of the curriculum and also more purposeful in terms of internships and intensive activities, immersion activities to which Frontier Market Scouts is an example. It's a wonderful program. If I were wearing a hat, I would take it off to CSIL [the Center for Social Impact Learning]. Everybody over there has done a wonderful job. That has been a tremendous focus for social entrepreneurship and helping the community.
What is your biggest success? Or what do you get the most satisfaction out of?
Success is such an amorphous concept. I like mentoring students, and I have some lifelong relationships with students. In fact I've even performed wedding ceremonies for students. The bond with students, that's great for me… helping them after they're out of here.
What are your hopes for the Institute's future?
When MIIS was becoming a part of Middlebury, there was a lot of concern on the part of students, and what I would say was "I'm willing to bet you 100 bucks that you're degree is going to be worth more in ten years than it is now." I didn't get any takers. But I think [I] would have made a lot of money on that, and Middlebury is an astounding entity. I think of Middlebury College as one of the finest liberal arts schools in the country, but it's now more than Middlebury College, it's the Middlebury Universe. I think it's going to bring excellence and continued excellence. So, what I would see in the next decade or two or three is that we will continue to be innovative, and we'll continue to be world class. If anything we'll get even stronger.
Any immediate plans?
Lots of plans! I've been named a Fulbright scholar, and I will be in Ireland from February to May of next year doing research on social entrepreneurship. I have a position at the University of Adelaide in Australia. It's a research position, and the title is "University Professorial Research Fellow." Sounds pompous, but I guess I'm a jolly good fellow [laughter].
I go there three times a year. I work with faculty there on their research, and I work with doctoral students. I've supervised a couple and advised a number [of them]. So, I'll continue doing that, and there are potential opportunities in Costa Rica and in France.
Is there anything you would like to leave off with?
I love this place. I hope to be emeritus after I retire. I live about seven, eight minutes away from here. So, I hope to be a presence on campus for a number of years to come.
Read the full interview.