Institute Celebrates Earth Day Times 10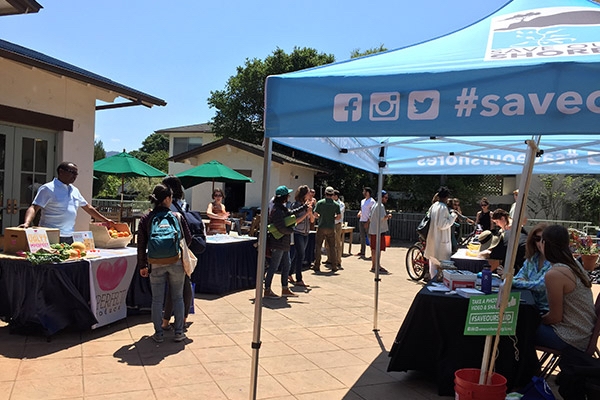 The Middlebury Institute's campus community has long stretched Earth Day celebrations to include a week or more of related events, and this year was no exception. The schedule of activities highlighting a range of sustainability themes on campus, in the community and around the globe began on Monday, April 17 and will conclude this Thursday, April 27.
On the 17th, the campus community was invited to take a no-plastic pledge by the student Ocean Club, taste fair trade-sourced coffee and cookies compliments of the Fair Trade Club, and participate in a special edition Earth Week trivia night at a local establishment. The next day, the Fair Trade Club continued promoting fair trade and sustainability trends, this time with a focus on the tea industry. On Wednesday, alumna Jessy Bradish MAIEP/MBA '13 gave a talk titled "The Climate Crisis and Its Solutions: Update on An Inconvenient Truth." Bradish is a self-described eco-activist, stand-up comic, and designer, and was trained by former Vice President Al Gore as a "Climate Reality Presenter" as part of his mission to promote climate change conversations in communities. The day ended with a screening of the documentary A Plastic Ocean. Thursday the 20th saw the Earth Day Fair in the Samson Center Courtyard and Author's Hour conversation on embodied intelligence and writing with professor Andrea Olsen. Her presentation included a dance excerpt from her project, "Dancing in Wild Places: Seaweed and Ocean Health."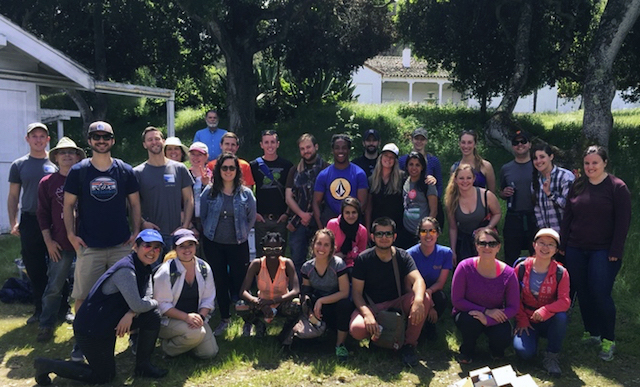 incredible nature in that country. The service day was a great way to be out in the Monterey area, caring for the planet and our local community." She adds that there was also a personal benefit; "Every time I am out in such a beautiful setting it helps reset my priorities, lowers my blood pressure and makes me realize the impact we have on our planet, for good and not so good. Surrounded by majestic trees and gorgeous wildflowers, we worked in the company of nature. We moved a red newt unearthed to the side of the stream so he didn't get hurt by our actions and watched a deer bound gracefully into the field."
At the same time back on campus, the Institute's Model United Nations Club, along with the Monterey chapter of the United Nations Association and International School-to-School Partnerships, hosted a Climate Summit in the Irvine Auditorium with a panel of Monterey Bay area scientists who discussed critical climate change issues and key opportunities. The final event, a tour of the local Whole Foods store with Professor Jason Scorse, is planned on Thursday; Scorse will talk about what it means to live a plant-based lifestyle and share tips.