Institute Student Wins Startup Challenge Monterey Bay's Student Division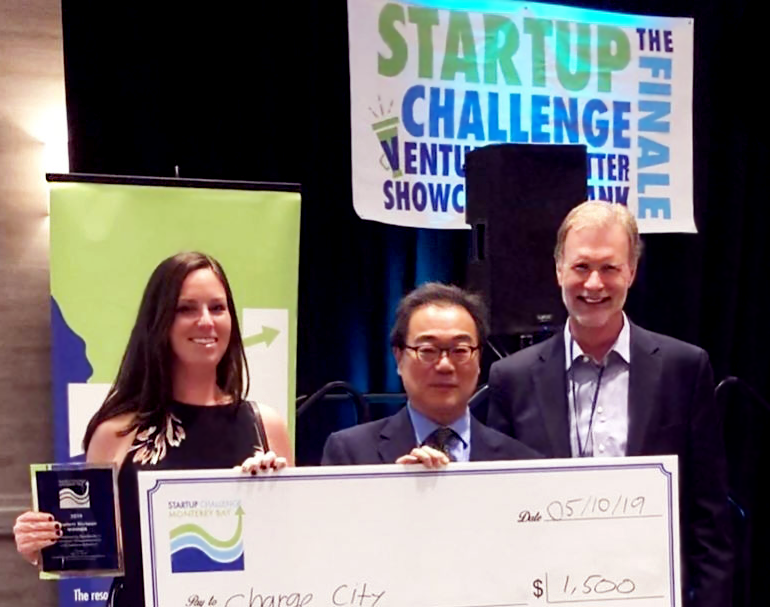 Charge City, a proposal by Middlebury Institute student Erin Lannon MAIEP '19 for a turnkey charging solution for electric vehicles, recently won the Student Division of the 10th annual Startup Challenge Monterey Bay, beating out two other finalists to take home first prize of $1,500 in seed money.
"Winning the StartUp Challenge was exhilarating and rewarding!" said Lannon. "The Charge City idea came to me a few months ago and I was able to fine tune my idea through Professor Jeff Langholz's Green Business Feasibility Assessment class." The International Environmental Policy student envisions transforming small and medium-sized business parking lots into Electric Vehicle Charging Stations (EVCS), with the goal of installing two to 10 charging stations per location. The business model employs incentives offered by the State of California to offer businesses zero-cost-down charging station installations. "Over the summer I plan to incorporate, raise seed capital and launch a pilot at a medium sized business in Santa Ana, Orange County. I'll be running on the lean start-up model with the goal of scaling in 2020."
The mission of the venture is to accelerate the creation of electric vehicle charging stations up and down the state, using a model that is potentially scalable on the national level with appropriate incentives. Lannon's proposal notes that a 2018 executive order from California Gov. Jerry Brown set a goal of five million zero emission vehicles (ZEVs) and 250,000 public chargers, including 10,000 DC fast chargers. California currently has 500,000 ZEVs on the road and needs seven million electric vehicles by 2030 to meet its climate goals.
"Transportation electrification is widely seen as crucial to decarbonizing the California economy," says Lannon. "ZEV buyers want to know where charging stations are." For California to achieve its climate goals, the California Public Utilities Commission estimates the state will need about 350,000 "away-from-home" ports located in public areas by 2030.
Startup Monterey Bay, the event's sponsoring organization, supports entrepreneurs in the Monterey Bay region both through its annual competition, and by "providing information about local resources, training, workshops, events, competitions, and opportunities to connect and network." Startup Monterey Bay is a project of California State University Monterey Bay's Institute for Innovation and Economic Development. The Startup Challenge offers $60,000 in total prize money to top contestants in divisions including Venture, Social Venture, Main Street, and Student.
"This unique opportunity allowed me to interface with industry experts to help refine an idea into a reality," said Lannon. "The competition taught me how to rapidly prototype my idea and go through an iterative process in order to achieve better results. It also allowed me to apply what I learned in the classroom to creating a real world solution. Charge City's goal is to democratize EV charging stations for all."