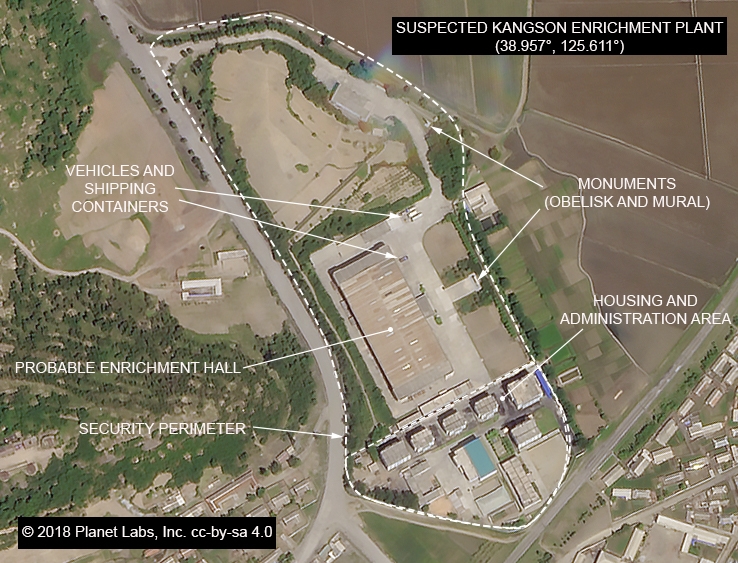 A team of researchers at the Middlebury Institute's James Martin Center for Nonproliferation Studies (CNS) has located a suspected covert uranium enrichment plant in Kangson, North Korea.
A team of researchers at the Middlebury Institute's James Martin Center for Nonproliferation Studies (CNS) has located a suspected covert uranium enrichment plant in Kangson, North Korea. Led by Jeffrey Lewis, director of the East Asia Nonproliferation Program at CNS, the team started their search after the existence of a site "believed to be called Kangsong" was first reported in the Washington Post in May of this year. On July 13, Ankit Panda of The Diplomat was able to confirm with U.S. intelligence sources that the site the CNS team located corresponded with a site that has been monitored by U.S. intelligence for more than a decade. Nonproliferation experts have long suspected that North Korea has other uranium enrichment plants than the declared one in Yongbyon, which was established in 2010. This discovery shows that North Koreans could potentially have been enriching uranium from as early as late 2003.  
"Kangsong" is actually a common place name in North Korea according to CNS Research Associate Grace Liu MANPTS '18. "We knew the general area where a plant like this might be, but when we looked at the physical map we have here at CNS, none of the places named Kangsong fit." Lewis and team started looking at other possible locations and their work included reviewing and geolocating footage of Kim Jung Un and his father Kim Jung Il visiting significant facilities in and around the area where they thought a plant might be, the industrial area of Chollima. As Panda explains in his article in The Diplomat, "Kangson was the old Japanese colonial-era name for Chollima and is in use by the U.S. intelligence community to still describe this enrichment site.
"This is really when Jeffrey used his magic to actually find the site," says Research Associate Dave Schmerler, referring to Lewis, who located a possible site. "At this point we purchased several high-resolution images and started to piece together facts." As seen in the image above, the suspected site has a wall surrounding a large facility and another wall surrounding an area with nice apartment buildings, one road in, a check-point, a helicopter pad, a mural and a pillar. The security measures point to a highly sensitive facility and the nice apartment buildings to skilled workers. The mural and pillar are interesting as they indicate a visit from late North Korean leader Kim Jung Il, although there are no public images of such a visit – perhaps further indication of the secret work conducted there.
The team discovered that the site in question on the outskirts of Chollima did not exist in 2001; building started in 2002 and by the end of 2003 the facility appears to be operational, a fact in part gleaned by the fact that the enrichment facility roof is the only building in the area without snow on its roof in winter, indicating a strong heat source inside. 
The images are currently accessible to the public as part of the recently relaunched Geo4NonPro site. The site is the brainchild of CNS Senior Research Associate Melissa Hanham, providing anyone who registers with the option to see the images and provide comments. The idea is to invite experts in a wide variety of fields as disparate as ship building and geology to provide insights into the images CNS and other nonproliferation analysts pore over on a daily basis.
Richard Engel of NBC News visited the Middlebury Institute campus to learn more about how a group of academics are using creative problem solving and innovative tools to gain insight into North Korea's nuclear missile program.
North Korea's first try exploded catastrophically. The second did better. What kind of missile was it? Middlebury Institute's Center for Nonproliferation Studies takes a look.
Nuclear policy experts from the Middlebury Institute and its James Martin Center for Nonproliferation Studies were quoted widely in recent media coverage of public comments by President-elect Trump.