Interpretation Alumnus: "MIIS Changed Everything"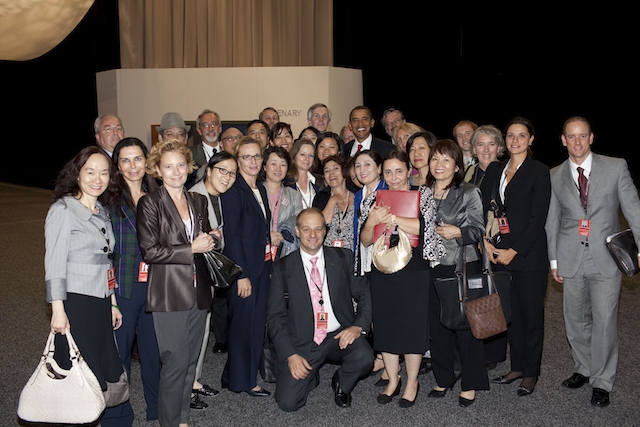 Ewandro Magalhães MACI '08 had already published a book on professional interpreting and built a successful career as a translator and interpreter in Brazil when he came to Monterey as an advanced entry student in the Conference Interpretation program in 2007. "I was presenting myself as an expert without having the right degree," he says, adding that he expected to finish his master's degree and go back home to continue his career where he left off.
"My experience at MIIS changed everything," says Magalhães.
Because the Institute does not have a Portuguese interpretation program, Magalhães picked English as his A language and Spanish as his B language. In addition to adding a new language to his interpretation repertoire, Magalhães developed professional skills that would become useful in the next phase of his career—such as consecutive interpretation of longer passages often used in diplomatic and other formal settings.
More than anything, though, he says "MIIS expanded my horizons." Not only has he gained the added prestige and recognition he sought when he enrolled at the Institute, but he now belongs to a network of influencers and like-minded professionals in the field.
Hired immediately by the U.S. Department of State after graduating and passing the professional exam, Magalhães and his family moved to Washington D.C. High demand for qualified Portuguese interpreters led to an exciting three-year period of work on high-level negotiations, conferences, and summits for various international organizations.
In 2010 Magalhães, his wife, and their three children moved to Geneva, Switzerland, where he was promoted from his role as chief interpreter in the United Nations system in Geneva to head of conference services at the International Telecommunication Union, a UN agency, and transitioned from interpreting to managing interpreters. "You really have to be an interpreter to do that job well," he says, adding that he enjoys the opportunities he has to help shape the profession. He is active in exploring new technology and training young professionals.
Laughing heartily when he describes the adjustment his family went through moving from the 24/7 bustling culture of D.C. to the slower-paced life in Geneva, he says life is good but he still misses Monterey and hopes to have an excuse to return soon.