J-Term in Chile: A Student's Perspective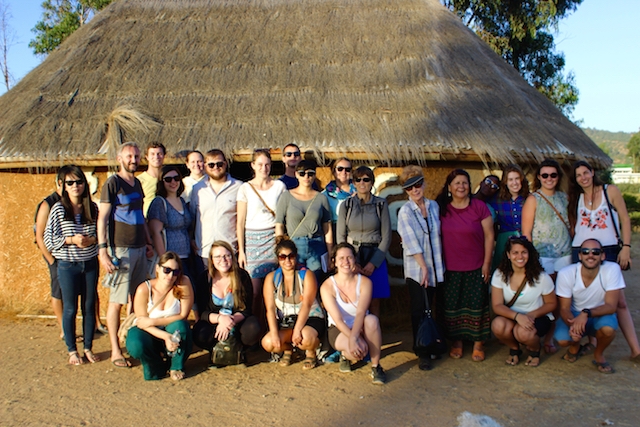 A telltale sign of the first week of spring semester is hordes of students freshly back on campus, passing friends and trying to squeeze in stories of their recent travels into the 10-minute breaks between classes. Passing by, you can hear snippets of stories from Rwanda, Nepal, Spain, Peru, and the list goes on. Julia Kelley MAIEM '16, who traveled to Chile for the three-week course "Transitional Injustice and Chile's Vulnerable Populations" led by Dr. Jan Black, offered the following personal account of her experience.
One of the reasons I chose this program in particular, aside from being interested in the location and subject matter, was that it was open to all students, regardless of their degree or language of study. This made for an interesting mix of students from various degree programs, all approaching the course from a different angle. And while the class was mainly Spanish intensive, between interpretations and interactions with the community, the program was mélange of Spanish, English, Mapudungun (the language of the Mapuche people), and the occasional bit of Bosnian, when our coordinator Lejla Marvis MAIPS '02 would do a head count.
On January 9th our group of 23 students convened in Santiago. During the five days we were in the capital, the focus was mainly on those most negatively affected by the military coup in 1973 and the Pinochet regime: the people who were tortured, killed, and "disappeared" and their family members. On our first day we met Judge Juan Guzmán, who led us on a tour of Villa Grimaldi, a former torture detention center operated by the DINA, the Chilean secret police. It was bizarre hearing such horrible stories of torture in now what is a beautiful place. The center has been converted into a peace park, full of trees, flowers, and parakeets among the memorials.
Meeting and working with Judge Guzmán was the highlight of my experience in Santiago. From the moment we met him, I was struck by his kindness and compassion. I had read a bit about his investigation of General Pinochet before the course started, but it wasn't until that evening, when we watched the documentary "The Judge and the General, " that I realized the magnitude of the work Judge Guzmán has done, risking his life for years, and meeting with hundreds of Chileans who faced injustice at the hands of Pinochet. It was inspiring to meet someone who has done such great work and is also such a kind and humble person.
After taking an overnight bus south, we based ourselves in Temuco and spent each day visiting a different Mapuche community in the region. Though united under a shared name and language, each group had different ideas and ways of doing things, and different preferences for how to interact with us. I was struck by their generosity and how much each group shared with us, whether it was stories, food, or their traditional game of Palin (similar to field hockey, but with an element of danger, as the "ball" is more of a rock). It was incredible to see the layers of trust that Dr. Black and Lejla Marvis had built up over the years with these communities.
One memory that stuck with me was our first encounter with their native language of Mapudungun. The first community we visited taught us their word for hello, "mari-mari," which literally translates to "ten-ten." This is because their traditional greeting is to raise both hands and clasp them against one another's – ten fingers against ten fingers. This is seen as a peaceful greeting, in comparison to a handshake from their Western colonizers, who would have one hand outstretched and the other on their weapon.
Our next stop was the coastal city of Valparaiso, where we visited an urban Mapuche community. While most of the communities in the south are actively advocating for land rights, the urban community is removed from that particular struggle. Their approach is focused on culture and preserving their traditions and way of life, including hosting a market where they sell tortillas and other traditional foods and goods.
After a much-needed day at the beach and walking through the colorful street art, we made our way back to Santiago. At our final dinner and ceremony, we said goodbye, with students splitting up to head home, or on to new jobs and internships in different cities, or to sneak in a few more days of traveling in South America. Now, back in Monterey, when I see my Chile classmates rushing around between classes, I stop and say "mari-mari."