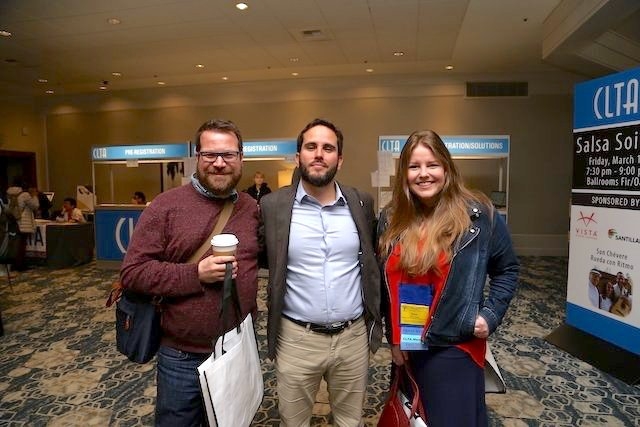 Middlebury Institute faculty members Jason Martel, Gabriel Guillén, and Claire Eagle presented a workshop highlighting innovative strategies used by faculty in the Summer Intensive Language Program (SILP) at annual California Language Teachers Association (CLTA) conference, held in San Jose on March 1st.
 
The workshop was entitled Strategies for Designing Content-Based Foreign Language Units and Lessons. As well as being a full time faculty member in the Institute's Teaching English to Speakers of Other Languages (TESOL) and Teaching Foreign Language (TFL) degree programs, Martel is the Associate Director of SILP where Eagle is French Coordinator and Guillén Spanish Coordinator.
During the workshop, Martel gave an overview of key concepts in content-based instruction (CBI), Claire discussed incorporating intercultural communicative competence into unit design, and Gabriel demonstrated technological tools that can be used in content-based lessons. "This workshop provided an excellent opportunity not only for us to promote SILP, but also to give back to the community of language teachers in California who so frequently and graciously accept to work with language teacher candidates and students at the Institute."
"I was very lucky to work with Jason and Claire in this new Content-Based Instruction (CBI) adventure," Guillén shares, "we have collaborated on many different projects in the past and I feel like their knowledge, their intellectual curiosity, their desire to learn and share, is somewhat bottomless! They take language teaching to a different level. We were also fortunate to learn from a unique group of language teachers, eager to share challenges and learn about new approaches and practices in the CBI world and beyond."
Eagle adds: "One of the things I love about SILP is the freedom we feel as teachers to continually hone our craft in innovative ways. Getting to share strategies and new ideas with other teachers from all over California who are equally invested in their profession and wanting to continue to develop it - what could be better?"
Middlebury Institute faculty member Dr. Jason Martel has been elected Chair of the Teacher Development Special Interest Group for the American Council on the Teaching of Foreign Languages (ACTFL).
Professor Jason Martel recently won the prestigious Stephen A. Freeman Award for Best Published Article.
Middlebury Institute Professor Deniz Ortactepe recently designed and implemented an innovative project to raise awareness of social justice among aspiring English language educators in Turkey.