The META Lab: Making Sense of Big Data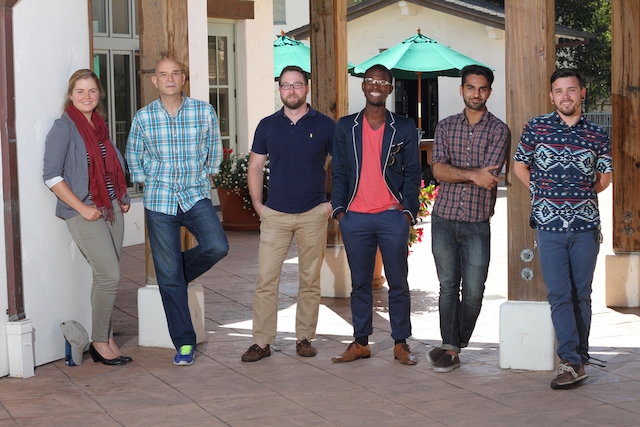 Tucked away in a suite on the second floor of the McGowan building is the Middlebury Institute's Mixed-Methods Evaluation, Training and Analysis Lab, or META Lab, established three years ago to formalize and ensure sustainability for a long-term student project with the Salinas Police Department. Since establishing the initiative's value on that first project, the META Lab has steadily expanded the scope of its work.
The META Lab specializes in data analysis, or, taking lots of big, messy pieces of information and organizing it in a way that makes sense. The team is made up of six graduate assistants and functions under the guidance of faculty members Philip Murphy and Fernando DePaolis. International Environmental Policy student Molly McKeon MAIEP '15, the Lab's lead research coordinator, refers to the team as "student driven, but faculty led."
The Lab has three main functions. First, each graduate assistant also works as a teaching assistant for the data analysis classes, offering in-class support to first year students. Second, the team is constantly working to increase learning opportunities on campus. Graduate assistants lead so-called "Geek-outs," or tutorials on how to use certain software programs. This practice gives the facilitators a chance to hone their teaching skills, while providing student participants with the opportunity to gain additional skills outside of class. There is one "Geek-out" per week, and recent sessions include training on Google Refine, data security, and building user forms in Excel. These sessions are open to all students.
McKeon's favorite aspect of the META Lab, however, is the projects they do for the local community. "It makes the learning much more real." She began working with the META lab in March 2014, after volunteering for Harmony at Home, a non-profit organization based in Carmel. Though originally her job involved a lot of tedious data entry, she was soon able to see how organizing and evaluating their data directly helped services such as in-school counseling for children who have experienced trauma.
The META Lab works on five to six local community projects each semester. Currently, the META Lab is working with partners such as the Community Alliance for Safety and Peace, a non-profit that works to reduce youth violence in Salinas. One project includes creating a database to compare sign-ups for after school activities with incarceration records. This information can be used to evaluate the efficacy of these programs. "Working with organizations is great. You can nimbly navigate changing situations," says McKeon.
In November, the META Lab will be running a program evaluation for a wellness event put on by Door to Hope, an organization that provides behavioral health programs, and other partners from the Community Alliance for Safety and Peace. They have also recently partnered with Institute's Center for Social Impact Learning (CSIL) to help manage their data and keep track of where CSIL is having the biggest impact around the world. In the months ahead they plan to continue searching out new opportunities to partner with and support local agencies in need of their data-crunching and program evaluation skills.