Middlebury Institute Community Mourns Loss of Beloved Professor Edgard Coly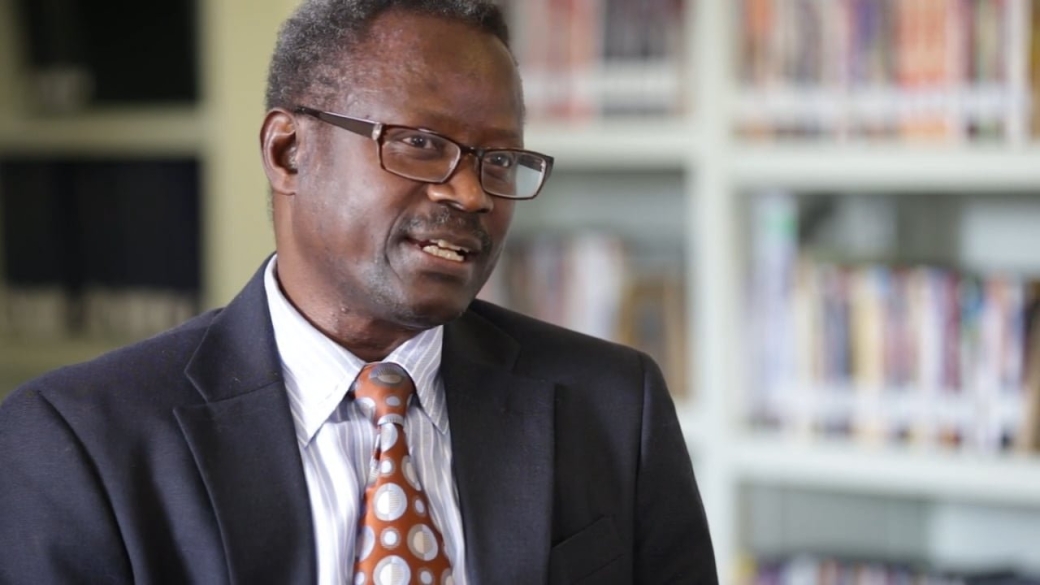 The Middlebury Institute community is mourning the loss of beloved long-time faculty member Edgard Coly, who is remembered as an exceptional educator, and a patient and generous mentor whose influence transcended the classroom. Coly passed away after a short illness in Bellingham, Washington, on Friday, March 19. He is survived by his wife Shirley, also a cherished member of the Middlebury family, and three children, Fabrice, Cedric, and Eloise.
 
Edgard joined the Institute in 2001. He taught French-language courses on African issues, with an emphasis on democracy, peacebuilding, international migration, environment, security and public health, including a course this semester titled "The World Today." Edgard formally retired last summer and was granted Professor Emeritus status by his faculty peers. In his message to the community on March 22, Dean of the Institute Jeff Dayton-Johnson remarked that Coly's "influence transcended the classroom, as he opened his heart and home to students from around the world who often formed lifelong friendships with the whole family."
"Monsieur Coly's home became the de facto headquarters for all of us African students at MIIS," shared alumna Maame Afon, MAIPS '05. "I can't count the number of times we gathered at his home to break bread and fellowship. We would have deep and lengthy discussions about our beloved continent––every voice and perspective had to be heard and expressed––and that's the way M. Coly would have it."
As a student studying literature at university in his native Senegal in the 1980s, Edgard discovered his passion for teaching and mentoring. Understanding the almost insurmountable hurdles economically disadvantaged students faced to qualify for college, Edgard and a few friends offered free lessons for community members in the suburbs of Dakar. Parents soon enrolled their children for classes in large numbers. He shared his story in a video for the Institute website and described "providing students with the tools to read the outside world more accurately" as his reward and his inspiration.
"Professor Coly was a gifted educator who inspired me to grow as a student and learner of the French language in new and interesting ways," shared his former student Ashley Burke, MAIPS '09. She said his methods "embraced and integrated the rich cultures, religions, history, and current events of Francophone countries around the world with my own understanding of the language. He was a light in the MIIS community and a special part of so many memories shared by me and fellow students."
"Edgard Coly will be remembered as an exceptional educator, and as a patient and generous mentor who gently expanded the perspectives of his students" said President Laurie L. Patton. "He exemplified all the best qualities of Middlebury, and his influence will be felt for generations to come."
Dean Laura Burian remembers Edgard as an incredibly kind, gentle, and generous soul who was universally beloved by his students and colleagues. "He always shared a smile and a kind word with everyone who crossed his path, and was a consummate educator of deep intellect and passion."
Professor Abdelkader Berrahmoun and Edgard organized the first Africa Conference hosted at the Institute in 2015. "During the time of our collaboration, Edgard worked hard to make the conference successful," Berrahmoun shares. "He believed that Africa deserved to be defined on its own terms by citizens of the African continent and diaspora. It was an honor to work with Edgard Coly. He will be greatly missed." 
"Monsieur Coly never leaves you once you encounter him," Afon shares. "The first time you are a visitor, but after that you become family." And as a family, we grieve his loss and feel fortunate to have known him.
Edgard was among the first faculty colleagues I met when I came to MIIS 10 years ago," Dayton-Johnson shared. "We enjoyed spirited discussions over the years about Senegalese politics, African economic development, music from Casamance (the region of Senegal from which Edgard's family hails) and a host of other topics. We lectured in each other's courses. Every year, I was delighted to cross paths with Edgard and Shirley at the Monterey Jazz Festival."
He went on to say that what he most recalls about Edgard was his generosity of spirit. "He was always very generous with my French language skills, and even more so with my limited knowledge of Wolof. With apologies to Edgard for my poor Wolof and French, I want to recall a Senegalese expression: 
"Waxi ndee bu taxawee, ndund yaa tax." (Si les paroles d'un mort restent debout, c'est à cause des vivants.) 
Edgard était plusieurs choses, mais il était avant tout et surtout un homme de la parole, des mots: de la communication, de la compréhension, de la mutualité, de la sagesse. C'est à nous, maintenant, d'assurer que ses paroles restent debout, dans nos mémoires, et inspirés par son exemple." 
Vous allez nous manquer beaucoup––merci pour tout!