Middlebury Institute Continues Push Toward Carbon Neutrality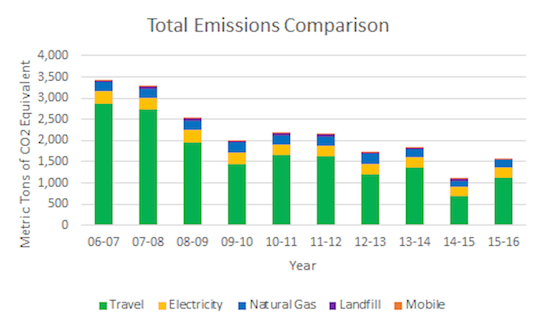 As Earth Week approaches, the Middlebury Institute's Sustainability Council is marking fresh milestones on the campus' path to carbon neutrality, with campuswide carbon emissions now half what they were a decade ago. Since 2008, the council has pursued a series of initiatives designed to reduce the Institute's carbon footprint, with notable results:
Total volume of CO2 emissions has been reduced from 3398 metric tons in 2006-07 (measured in metric tons of carbon dioxide equivalent) to 1612 metric tons 2015-16
The Institute recycles 46 percent of its waste.
After the Institute replaced most interior lights on campus with LED bulbs, electricity usage dropped 18 percent (a reduction of 169 metric tons of CO2 emissions).
The Institute has recycled 1992 pounds of used batteries since it began collecting them in special bins throughout campus in 2008.
"These gains demonstrate the depth and seriousness of our campus' commitment to sustainability," commented Vice President for Academic Affairs and Dean of the Institute Jeff Dayton-Johnson. "I'm very proud of the work done by our Sustainability Council and the entire campus community to reduce waste and increase energy efficiency across the board."
The Sustainability Council is a 14-member group including faculty, staff, and students, including Sustainability Graduate Assistant Zara Currimjee MAIEP '18, who completed the greenhouse gas audit that generated the data found on the council's recently updated Goals & Results page.
"The annual audits help us track our progress in becoming a more sustainable campus," noted Currimjee. "Our goal continues to be to achieve carbon neutrality campuswide over the next few years." The total emissions comparison chart reproduced above illustrates the reductions the Institute has achieved in its carbon footprint over the past decade.
The Sustainability Council and students from the Institute's International Environmental Policy Program are planning a wide range of activities in connection with Earth Week, beginning April 17 and leading up to Earth Day on April 22. Check the Institute Events Calendar in the coming weeks for more information.