MIIS Student, Fellow Peace Corps Volunteers from Nepal Raise Funds for Transitional Housing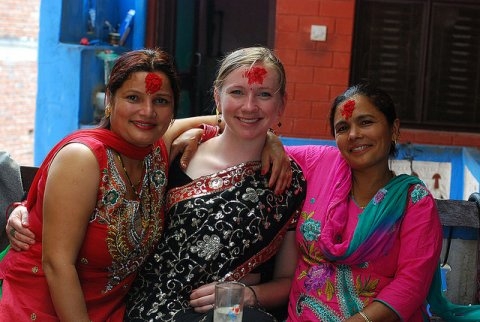 Sindhupalchok is one of the two districts in Nepal most affected by the series of earthquakes and aftershocks that have caused an estimated eight to nine thousand deaths and left whole villages and neighborhoods in ruins. It is also where Middlebury Institute International Environmental Policy student Amanda Bensel MAIEP '15 and a group of fellow Peace Corps Volunteers stayed with families in the village of Chautara during their training period, and in many cases formed deep personal connections. Amanda's host family has a 12-year old son, and the two formed a special bond, strengthened by their shared experience as only children. "We bonded a lot more than I expected," says Amanda, sharing stories of him waking her up for her morning tea before classes at 6 a.m., chess games, and general camaraderie. When he had his coming of age ceremony, she participated as his older sister and it is clear that was a meaningful experience for both.
Amanda learned about the first earthquake of 7.8 on the Richter scale only minutes after it happened, in a text message from her boyfriend in Kathmandu. She has since been able to contact her brother and knows that her host family survived. Some of her fellow RPCVs had worse news. Assistance has been slow to reach Chautara and surrounding villages in Sindhupalchok, where most of the people now live under tarps in the rice fields. Amanda and her Peace Corps group have wasted no time and are busy fundraising for their Nepal Earthquake Recovery Fund with a focus on funding transitional housing in the area. They have an Indie Go-Go campaign and are hosting a fundraiser at Cibo Restaurant in Monterey on Thursday, May 14th from 5:00 to 10:00 pm.
There is an urgency to respond quickly as the monsoon season approaches and Amanda's group has both the on-the-ground presence (two of them are already in Nepal, and Amanda will travel there in June) and the local connections they believe vital for effective and targeted aid. Amanda, who has an undergraduate degree in Architecture and Urban Planning from UC Berkeley, and her team are particularly interested in sustainable solutions that will contribute to a positive recovery for their beloved Nepalese people.